Here is an interview with Managing Director Mr.Kolitha Fernando and Director Mrs.Sujeewa Fernando of Jeewa Australian Educational Center (Pvt.) Ltd. Jeewa Australian Education is an organization which has a proven track record of two thousand students who have made the correct decision in their course of higher education.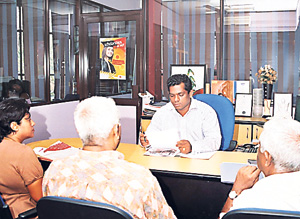 What makes you different from other institutions?
We are educational consultants and career guidance counsellors, and professionally experienced in problem based solutions. Having studied and lived in Australia for a number of years, we have a thorough knowledge of the education system and the needs of Sri Lankan students who aim at completing their higher education overseas. Many requests from Sri Lankan students have made us share our experience and taking the current situation under review, the younger generation has to be protected from fraudulent agencies. We play by the rules and follow government regulations at both ends, abide by the college requirements and see that the student gets the best and is not misled. We deal with all government recognized institutions in Australia, New Zealand, UK and Canada.

We understand that recently you have expanded your services to the UK and Canada. What motivated you to provide the additional educational opportunities in other countries?
There have been various requests from prospective students and parents looking for educational opportunities in UK and Canada asking us to provide Educational consultancy services for other countries, since we are very successful in promoting Australian Educational opportunities.
We thought this was the right time to promote Educational opportunities in other countries and made agreements with UK, USA, Canada and New Zealand institutes to promote their Educational opportunities to Sri Lankan students.
Can you share your secret of success?
A. My wife and I personally attend to all our clients without leaving our employees to take on any issues. Responsibility is the key operation of our mission and the attention we give is 100%. Our personalized services offer career guidance and are not just a student placement.
What advice would you offer parents who are interested in sending their children for higher education overseas?
Parents of prospective students should plan for their children's education early. They should discuss their plans early with us. Since the financial commitment is the most important criteria, they should plan it before they reach the stage for higher education. We explain and guide the parents and students free of charge.
If you need any more information about Jeewa Australian Education Center and its services please visit one of our offices or email to Mr.Kolitha at:
Email: jaec@sltnet.lk
website: www.jaec.net
Our contact numbers.
Panadura office: 0382243418/4282122/ 4281829
Battaramulla office -0112889231 / 0112889232
Kandy office: 0812217350 / 0815633477