Virtusa TestFest 2010 was held on February 25 2010, as Virtusa Corporation presented its groundbreaking software testing festival. The event was organized to celebrate software testing and quality assurance professionals and their contribution to the IT industry, in an ever evolving world where quality plays a crucial and fundamental role.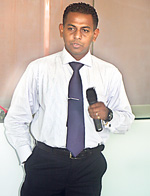 This rare opportunity enabled first-hand experience on how software testing tools, innovative methods, techniques and processes are designed, implemented and used by professionals in the IT industry.
The festival, open to all Virtusa employees, IT students, industry specialists and industry enthusiast, was intended to provide awareness on some of the new developments in software testing and quality assurance field.
The event also provided firsthand knowledge on using some of the newer tools, technologies and best practices to quality engineers in order to improve their productivity in software testing and quality assurance.
This full-day event included an agenda of Testing Demonstrations, Career Guidance, and Interactive Time with Professionals, Quiz Programmes and Whitepaper Presentations. Virtusa General Manager, Madu Ratnayake, , stated that, "over the last decade we built a very strong testing and quality assurance capability and we hope to enhance this capability in a number of new core domain areas to further strengthen our offering to global clients.
TestFest is a great platform for Virtusans to showcase their capabilities. It was amazing to see the kind of innovation showcased by Virtusans in multiple areas of quality assurance"
About Virtusa
Virtusa is a global information technology (IT) services company providing IT consulting, systems integration and application outsourcing. Virtusa focuses on simplifying IT by consolidating, rationalising and modernising core customer facing processes into one or more core systems. We leverage a global delivery model to offer solutions at a cost effective price point and employ new methods such as Agile and hothouse methods to insure that the right system is delivered the first time. As a result, organisations can reduce the cost of their IT operations while increasing their ability to meet the changing needs of the business.
US - Westborough, New York UK - Windsor, London India - Chennai, Hyderabad Sri Lanka, Colombo.