Google is hoping its newly released Chrome 3.0 browser can help bring big changes to the evolving browser market. The new version promises improved performance and a host of new features. But is it all enough to actually win over new users?
As it stands, Chrome holds about three percent of the global browsing market. Google's hope is to triple that share by 2011. So could it happen? Several factors are working in Google's favour. First, the browser has seen significant growth during its first year, managing to surpass the more veteran Opera and catch up to Apple's Safari within a matter of months. And all of that occurred despite very little in the way of promotion on Google's part ! The core to this growth is the brand power that Google carries across all of their products and services.
Google has paved the path for a rapid growth by setting up dealerships with hardware manufacturers such as Sony, to pre-install Chrome on its PCs. They are actively working to secure similar arrangements with other manufacturers so don't be surprised to see more vendors replacing the Windows sticker with Google ! Plenty of people tend to use whatever browser comes with their system by default, so having Chrome in front of their faces could put Google in a powerful position. Further more, in 2010 Google will debut the highly anticipated Chrome OS, which will ship initially on netbooks, further increasing the potential growth of Chrome.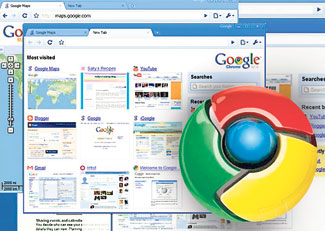 The browser market is currently in a state of flux. Over the past year, Internet Explorer, the long-reigning king of the browser market has lost a whopping 12.4 percent of its user base. Firefox, at the same time, has grown its share by a massive 17 percent, while Opera has nearly doubled its piece of the pie. Safari has experienced only a minor shift. The smaller "alternative" browsers are becoming increasingly popular, so much so that I fear that the Internet Explorer could lose its crown by 2012, if current trends continue.
All put together, the stage is set for change, and a high-profile browser such as Chrome is certainly in a position to take advantage of it.
Taking a sneak peek at Chrome 3, it include more customizsable tab pages (you can mix parts of the page and re-arrange thumbnails of pages). They have also simplified the use of its Omnibox, the all-in-one search bar and web address bar, via icons that help distinguish pages and sites from one another. It also has support for HTML5 video tags which makes running embedded videos smoother, avoiding the need to use a plug-in.
A busy time for the Chrome folks at Google for sure, but I expect they are going to really rattle the rest of the browser community. Stay tuned !