"As a child I wanted to be a writer + table-tennis player/ cricketer, + either a gumshoe private eye, a secret agent or a grafter," says Diran Adebayo asking me to imagine "a man with an alias, a hat, and a good collection of suits and sunglasses..."
Despite having to forego a life of intrigue and action, Diran can still claim one out of three. An accomplished writer and cultural critic, Diran's literary debut 'Some Kind of Black' won him a slew of awards, including the Writers' Guild of Great Britain's 'New Writer of the Year' Award. He followed the book, which articulated a British-African perspective, with a second novel, 'My Once Upon a Time' and is currently at work on his third novel – 'The Ballad of Dizzy and Miss P' – and a sports memoir.
The last combines Diran's love of writing with his devotion to sport – cricket in particular. As a young man, he read extensively on the subject. He also played for his school – "until a South African school team came over, during the apartheid era, and I dug up the school's prize cricket pitch and got into trouble." He's still a decent player, off spinner and opening batsman, and should you wish to engage him in an impromptu game, head down to Galle for the 2010 Literary Festival where Diran says he's particularly anticipating meeting Rana Dasgupta – author of 'Tokyo Cancelled' and 'Solo'.
What are you reading now?
Quite a few things: some poetry - Pablo Neruda's 'Fully Empowered' and Seamus Heaney's 'Death of a Naturalist'. Novel-wise, it's 'Andrea Levy's 'Small Island', finally. I'm also reading a couple of cricket books that a friend got me for Christmas, E.W. Swanton's accounts of the 1953-4, and 1959-60 MCC tours of the West Indies: 'West Indian Adventure' and 'West Indian Revisited'.
Are you enjoying them?
For sure. I'm a bit of a poet manque, to be honest - I often find in good poetry a precision, a speed, and a pleasure around language that I find insufficiently in novels. The Neruda is fine - a full-blooded kind of guy, if you know what I mean, which I like in my writers. I am reading it in translation unfortunately, which takes away something from poetry, especially. But in my edition the Spanish originals run side by side - the best way to do it.
Andrea Levy's a mate, so you wouldn't get total frankness, even if I didn't like, I'm afraid! But I am liking, though it's still early days with it. I'd have to say, though, that I've long entertained certain theories about the kind of 'black' books that are likely to work best with a predominantly white British audience - the white 'feel good' factor you need etc, and this novel fits squarely within those parameters (which is not to cast aspersions, necessarily, on Andrea's work or others who fit snugly in these).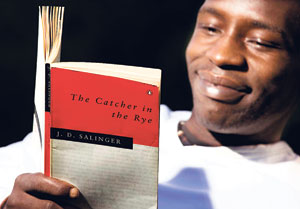 Pic by Paul Rogers
As for the cricket books, well these are fairly tame accounts of tours, unremarkable from the literary or social commentary points-of-view, but reading/ thinking about cricket is my favourite way of falling asleep (just about!). I'm a West Indies supporter, but the great English post-war batsman Peter May was a childhood love of mine, and in these books I've got to read about him twice.
Where do you like to read?
Oh, everywhere. When the TV or radio's on, in the post-office or supermarket queue; with biscuits, in bed (I'm a messy reader - you don't want to lend books to me).
You've been compared to Irving Welsh in the liberal use of slang and street idioms in your novels. Are there other, newer writers with a similar approach that you enjoy reading?
Well, I'm not so up on younger current ones as I should be. E.G. Gautam Malkani's 'Londonstani' is in my waiting-room, but yet to be read. I did enjoy many of the poems in Daljit Nagra's 'Look, Who's coming to Dover' from a vexing the Queen's English point-of-view. One UK contemporary and good friend of mine who's done some rather fine slang and street-infected novels is Nick Barlay. Beyond that, there are some American avant-garde, small press writers who have been using hip-hop, jazz and other musical influences to mash up the novel, eg. Ricardo Cortez Cruz's 'Straight Outta Compton'.
As a young man you "read every cricket book in Wood Green library." Which was your favourite then? Have any other, more recent publications on the sport proved equally intriguing?
Fiction-wise, I'm a big fan of P.G. Wodehouse. His public school cricket stories - Mike and Psmith - are a minor part of the oeuvre but gave me pleasure (as did his golf stories).
Most of my cricket reading were accounts of tours and players gone by, and often those that became favourites became so not so much because of the quality of the writing (though the writing was of a consistently higher standard than other sports writing), but because of some affinity I felt for the player, period or locale evoked, or because of the moment at which I read the book. Biographies of Peter May and the Australian champion batsman Victor Trumper were the first two I ever read, aged six or seven, and Trumper's story - his genius, his early death, his kindness, even his sort-of casual untidiness - moved me greatly, but I forget who the author was.
A couple of the authors who come to mind from those times are the Australian Jack Fingleton and the Scot Ian Peebles, both players turned incisive cricket writers. C.L.R. James' 'Beyond A Boundary' I also liked although, a bit like Mandela in another context, I didn't think it quite as good as so many claimed it was. More what I remember are particular nuggets from these books. I remember the former England paceman turned writer Mike Tyson describing another quickie Ken Farnes and his 'glad, animal action', R.C. Robertson Glasgow describing Bradman's batting as 'Poetry and murder lived together', and a lovely Neville Cardus description of a Wilfred Rhodes over. You got a sense of the narrative arc that all us bowlers, especially spinners, have a feel for; each ball a different chapter in your story.
Among the moderns, Gideon Haigh, whom I was delighted to meet in Australia a while back, is my favourite. I've read all his books. I'm keen on Mike Marquesee's 'Anyone But England: Cricket and the National Malaise' and his writing on cricket in South Asia, is also fine. There are many fine South Asian writers I read mainly on Cricinfo, but I haven't read their full Monties yet. I've been reading your boy Kumar Sangakkara too, in a couple of places. He's very good too. Triple-talented!