The very first winter season after the three decades of bloody conflict seems to be the best in many years. The foreigners from all over Europe have filled the beaches in the South West coast, specially Russians, Scandinavians, Germans, French, Austrians and British are flocking to enjoy the sun and sand.
Unawatuna seems to be special for revellers. Listed as one of the seven most beautiful beaches in the world, Unawatuna is an ideal holiday destination for both the budget minded as well as the more up market travellers.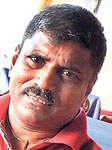 Anura Yatawara
Out of many restaurants on the golden stretch of Unawatuna beach, Hard Rock stands out. Hard Rock Cafes, though not found in Sri Lanka, are popular restaurants around the world. But 'Hard Rock' is a specialized sea food restaurant located on the beach.
Anura Yatawara, proprietor of 'Hard Rock' believes that tourism in Sri Lanka has a very promising future.'I am really happy as tourism, which had been badly hit by the thirty year war is now picking up slowly but steadily' he said.
Anura, an experienced hotelier, put up this popular 'Hard Rock Restaurant' on the famous Welle Devalaya Road, way back in 1997. 'I just started this place in very small way and it has grown in to a big project now. The main reason is serving the needs and wants of the tourists visiting the area. Most of the visitors are dying to eat a good sea food platter and we are the best at it' explained Yatawara.
'Hard Rock' caters not only to overseas visitors, but many Sri Lankans are patronizing the place for world class sea food dishes. Apart from sea food, Hard rock is a popular place for Italian cuisine too. Pizza Corner is popular among visitors.
'We get quite a number of Italian visitors and that's why we think of going for a pizza corner.' Anura said.
Other attraction is their preparation of 'Jaffle' or 'Jaffle Pie', special Australian toasted sandwiches. Nowhere in this country, I have tasted Jaffle, like I enjoyed at the Hard Rock café.
Also we arrange facilities for water sports, adventure boat ride service to 'Jungle Beach' in Roomassala off the Unawatuna coast and taking tourists on deep sea fishing trips' said Anura.
Apart from that, 'Hard Rock' arranges city tours to traditional tourists. 'Galle Fort, religious places and ancient places and locations, turtle hatcheries, handicraft villages, spice gardens are some of the popular places we include in these tours' he added.
The Restaurant is open from early as 7.00 in the morning till late hours in the night. For details, contact Hard Rock on 091 2246288.