"We're holding our breath and ready to shift into gear," says Sunila Galappatti, Festival Director of the 2010 Galle Literary Festival. "From the arrivals through to the movement of our goods to Galle, and on to the beginning of the festival, this is that stage of just charting the schedule of where everyone's going to be."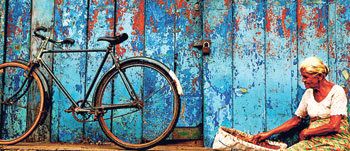 Above and below: From Galle through a lens: Nayanahari Abeynayake's exhibition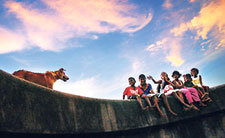 It's a busy time for Galle. Across the country, the focus is on the Presidential Election, and with Galle designated a counting centre, the organizers will have to wait to put the final touches in place.
Still, this festival promises to be the most engaging yet with numerous free events and fringe festival exhibits to enjoy even as you take in the festival itself. It's also a chance to rediscover Galle and its surroundings – from whales to rainforests, from intricate antique lace to mouth-watering biriyani, there is much to experience, savour and celebrate.
Spoiled for choice? Following are some sessions you'd like to see:
Friday, January 29:
(Free Event) 10 a.m -11a.m.
Who Do You Think You Are?
Michelle de Kretser, Ru Freeman, Gillian Slovo, Lal Medawattegedera and David Blacker discuss which stories they have chosen to tell about Sri Lanka and why.
3.30 p.m - 4.30 p.m:
Exploding the Mango
Mohammed Hanif speaks to Sarnath Banerjee about his debut novel - a fictional reconstruction of the plane crash that killed Pakistani President Zia-ul- Haq
11.15 a.m.– 12.15 p.m:
Fables and Fairytales
Rana Dasgupta, Shyam Selvadurai, Diran Adebayo and Antonia Michaelis tell us why they keep returning to ancient forms of storytelling.
(Free Event) 4.45 p.m.-5.30 p.m.
Keerthihan's Kite
Hear about the genesis of Sri Lanka's first trilingual picture book.
2.15 p.m. - 3.15 p.m:
Every Secret Thing
Gillian Slovo grew up in the South Africa of apartheid, with parents who gave their lives to the struggle against it. Here she reads from her memoir and tells us about her life.
Saturday, January 30
11.15 a.m. – 12.15 p.m:
Dead Planters and Lost Dogs
Michelle de Kretser's novels have always been marked by mystery. Come and hear her explain herself.
2.15 p.m. – 3.15 p.m:
Hidden Lives
Claire Tomalin has told the stories of hidden women in history: Dora Jordan, mistress to the King, and Nelly Ternan, Charles Dickens' dirty secret. She tells us why she chose these tales to tell.
3.30 p.m. - 4.30 p.m:
Resident Critic
Rajpal Abeynayake tells us what he dislikes about the Galle Literary Festival. Moderated by Sunila Galapatti, Director of the Galle Literary Festival.
4.45 p.m. - 5.45 p.m:
Life Sentences
Ian Rankin tells us how his most famous detective, John Rebus, came to be, and finally to retire.
6 p.m. – 7 p.m:
Solo Sessions
Come hear Rana Dasgupta – the author Salman Rushdie hailed as 'the most unexpected and original Indian writer of his generation' – speak.

Sunday, January 31:
10 a.m. – 11 a.m:
Making Legends
Gratiaen Prize winner Shehan Karunatilaka wrote about 'the greatest Sri Lankan cricketer never to achieve stardom'. Catch him in conversation with Amit Varma, among other things a cricket journalist.
Free Event) 11.15 a.m. – 12.15 p.m:
Traveller's Tales
Louise Doughty comes from a long line of Romany gypsies whom she has written about and reinvented through her books. Hear her speak about a unique heritage and a hidden history.
2.15 p.m.-3.15 p.m:
Playing Fast and Loose with History
Renowned historian Antony Beevor chronicles the rise of the conspiracy theory.
4.45 p.m. -5.45 p.m:
Noises On
Michael Frayn has written as a journalist, novelist and playwright. Here he speaks of how fiction can sometimes alter reality.
6 p.m. – 7 p.m:
Reincarnations
Shyam Selvadurai gives us a first preview of two new books, both based on the Buddhist Jataka tales.
Monday, February 1
10 a.m. – 11 a.m.
Presentation of Theatre Workshop (Free Event)
Witness the results of a three day workshop led by Ruwanthie de Chickera, for a group of newcomers to theatre.

Exhibitions, discussions and performances:
Galle through a Lens
When –January 27 to February 1 (The Fort Printers)
Young photographer from Galle, Nayanahari Abeynayake, invites you to enjoy the beauty of Galle through a series of her photos of Galle and the Fort.
(Free Event) Ravibandu Vidyapathi Drum Ensemble
When- Friday January 29, 7 p.m. – 8 p.m.
Where - Law Court Square
The celebrated Ravibandu Vidyapathi Drum Ensemble brings the Festival evening to life with a special performance.
Call Me If You Feel Too Happy
When – Saturday, January 30, 7 p.m.
Where - The Sun House
Based on a true story involving the tsunami, a visit to the Priory, and an ill-advised trip to America. Sophie Pelham gives a frank, unpretentious performance.
(Free Event) Chitrasena Dance Company
When – Sunday, January 31, 6.30 – 7.30 p.m.
Where - Law Court Square
Sri Lanka's premier dance company gives a special performance.
The Literature of Post-War Sri Lanka
When – Saturday, January 30, 3.30 p.m. – 5 p.m.
Where – The Rampart Hotel, Galle Fort.
Novelist David Blacker, short-story-writer Pradeep Jeganathan, poet and translator Malinda Seneviratne, and Professor in English Literature Neluka Silva discuss the possibilities for Sri Lankan writing in the post-war period, and consider opportunities for setting the agenda. Panel moderated by writer and critic A.S.H. Smyth.
Buying your Tickets
Four-Day Festival Pass (Rs. 10,000): A four-day Festival Pass will give you entry to all events in the Hall de Galle and the Maritime Museum from January 29 – February 1.
Day Pass (Rs. 3,500): A Day Pass may be purchased for a specific day of the Festival and gives you entry to all events in the Hall de Galle and the Maritime Museum.
Individual Event Passes (Rs. 900): These tickets may be purchased for any individual event within the programme and are specific to that event. Workshops and other special events vary in price. Students and teachers in primary and secondary schools are offered hefty discounts. For more information, email info@galleliteraryfestival.com or call: +94 (0) 77 54 88769. Tickets still available at Barefoot in Colombo and at Lollapalooza, Galle.
Get free passes
In collaboration with the Galle Literary Festival, we're giving away one 4-Day Festival Pass, and two Day Passes to three lucky readers. All you need to do is tell us in a few lines which of this year's literary stars you would like to meet and why, and who knows you may just get lucky. Please email your entry to sundaytimesmag@gmail.com and don't forget to include your full name, age and telephone number. Winners will be contacted directly on January 26.

Where to eat:
Our picks for some special treats to try during the Festival:
Sample Mrs. Khalid's famous biriyani. Advance bookings required and no alcohol served.
Mrs. Khalid's Guesthouse: No. 102 Pedlar's Street. Tel: 091 223 4907
No one does a thin crust pizza as well as Anura's Restaurant. They also serve pastas and salads. No. 9, Lighthouse Street. Tel: 0776 613 275
Cafe at the Old Bakery: A special cafe will be opened for the period of the Festival by a group of Fort residents selling home-cooked Galle foods. Biriyanis, Kotthu roti, served with fresh juices and much more!
Try the chocolate roti at the No. 1 Roti Restaurant in Hikkaduwa. Roti Shop, No. 373 Galle Road, Wewala, Hikkaduwa. Tel: 091 492 1540
Gina's Vegetarian and Vegan Restaurant has enough variety to tempt any palate - Yaddehimulla Road, Unawatuna. Tel: 091 438 0366
Where to go:
Martin Wickemasinghe Ancestral Home and Folk Museum (Tel: 091 228 3327)
Discover the ancestral home of one of Sri Lanka's most renowned authors, the late Martin Wickremasinghe, at Koggala. Examine a fascinating archive of 70 years of his writing and explore the excellent Folk Museum – painstakingly labelled exhibits narrate the life of villagers in by gone eras.
Open daily from 9 a.m. – 5 p.m.
Bike rides
Explore Galle's lush hinterland and wind your way past green paddy fields and ancient temples on one of Alex's cycles. Call 0777 905 156 for the tour!
Tea Estates
The Handunugoda Estate is famous as the producer of the most expensive white tea in the world! If you'd like to visit call 0777 713 999 / 0773 290 999 for directions.
Koggala Lake
Take a boat ride and make landfall on one of the islands that dot this beautiful lake. Visit a local cinnamon plantation and watch as Sri Lanka's most famous spice is harvested. Boats can be hired from Ananda Spice Garden.
Old Dutch Fruit Market
This fruit market is right opposite Marine Drive, just a ten minute walk out of the Fort and into the town.
Kottawa Rainforest
Information – Tel: 0112866625 / 0112866625
From the beach to the rainforest – Kottawa is well worth a visit for nature enthusiasts. Rainforest Rescue International (Tel: 091 223 2585 / 077 453 5746) arranges free pick-ups from Galle and organises trips to Hiyare.
You might even be able to spot a rare bird or mammal at the Wildlife Conservation Society of Galle outpost in the forest. Don't forget soap or salt – to guard against leeches!