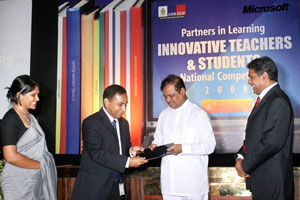 The picture shows Microsoft's Sriyan de Silva Wijeyeratne handing over the "Partners in Learning addendum" to Minister of Education Susil Premjayanth. Looking on is Microsoft Academic Programmes Manager, Yashinka Jayasinghe Alles, and EKSP Project Director Anura Dissanayake.
Microsoft recently announced that it would be funding the Education for Knowledge Society Project (EKSP) of Sri Lanka's Ministry of Education for 12 to 15 months via a Rs. 100 million grant.
According to Microsoft Sri Lanka Country Manager, Sriyan de Silva Wijeyeratne, this grant will facilitate the "delivery of Multipoint technology to 400 schools in Sri Lanka (which) is a major local initiative that we are sure will have far reaching, long term benefits and effects".
Microsoft's Multipoint technology is said to enable "3 to 30 students to simultaneously use and learn from educational software on one computer" achieved by way of each student controlling their own indvidualised on-screen cursor.