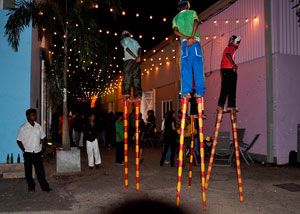 Stilt walkers
Sri Lanka's advertising awards season kicked off recently with the craft-based precursor to the high competitive and often controversial "Chillies" creative awards. The Reggie Candappa Creative Craft Awards, or the "Reggies", which differentiates itself from other local awards shows by focusing on categories such as best illustration, photography, concept, copywriting, etc. in the traditional television, radio and print mediums, proved not to be very different from other awards shows in that it also featured the usual pomp and pageantry which has become commonplace today for most awards shows.
Meanwhile, this year was interesting in that it featured a "notable" increase in the number of awards; 10 gold, 23 silver and 21 bronze awarded in 2009 compared to 2008's seven gold (formerly called winner), 12 silver (formerly 1st runner-up) and 22 bronze (formerly 2nd runner-up). A total of 13 more awards in a year when entries were down significantly to about 400, from a peak of 550 entries in 2007; also, a year in which the ad industry is said to be marred by ever reducing ad budgets.
While the metal tally in 2009 was again dominated by Reggie Candappa- founded Grant McCann Erickson, which took four gold awards on the night, three more than any of the other six gold winners; the true drama of the night proved to be the traction achieved by the new categories added this year, book design and online medium; with both having a few entries this year.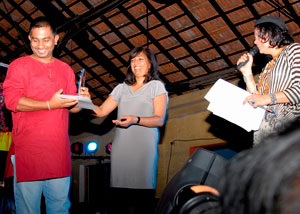 Awards presentation
Also notable in 2009 was the number of new entrants usurping the will of traditional agencies which one has grown accustomed to seeing win at these kinds of awards show. New metal winners this year included ABC Radio Networks, Ad Space & E, Kumkum Fernando (gold winner), Brands Alley, Insight Advertising, MBC Networks (gold winner), MCN creative Associates, Perera Hussein Publishing House, We Are Designers and 24 Frames (gold winner). Meanwhile, traditional agencies winning gold included Leo Burnett, Triad and Sarva Integrated.
It was further interesting that the "Reggies" also extended several categories such as best illustration (adding packaging and political cartoons), best logo (now re-categorised as graphic design encompassing logo, stationery, business brochure, packaging and other corporate materials), and best photography (with most powerful image of the year included). According to Trevor Kennedy, a widely respected creative and "Reggies" 2009 photography and book design judge: "The new categories introduced this year also show definite promise - I think photography in particular will be a strong category next year".
In the meantime, the "Reggies", now in its 6th year, was held on a Friday night and, by all accounts, well attended with many heads of local agencies and their creative teams spotted at the event. Additionally, with its "Bohemian Glam" theme laid out by Kumkum Fernando, the awards proved to be as festive as always and featured what has been described by organisers as "Sri Lanka's first ever Art Squat" and "stilt walkers in glitzy gear welcoming attendees with fistfuls of colourful and glittering confetti". (JH)