World renowned menswear brand Crocodile recently began its association with golf in Sri Lanka, sponsoring the prestigious Royal Colombo Golf Club December monthly medal on December 5.
The brand "Crocodile" was founded in Singapore by Dato' Dr TAN Hian-Tsin in 1947 with a focus on menswear emphasizing on quality and affordability.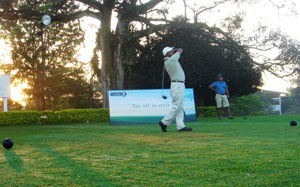 Golfing in progress
These attributes soon propelled the brand as a leading men's wear in Asia, a statement by the company said. Crocodile's network spans across Japan to Middle East horizontally and vertically from Mongolia to the Fiji islands and all major cities in between.
The golf tournament was graced by more than 200 exclusive member participants. The day was energized with activities offered by Crocodile whilst golf balls were being driven throughout the day. Lucky golfers walked away with free Crocodile T-shirts from the lucky draw. Gift vouchers were presented to the golfers who birdied the 8th hole which was named the Crocodile Hole. A special prize was on offer for the Best Dressed Golfer, which was won by Sanjeewa Wickramanayake, CEO of E-W Information Systems Ltd.
The all prestigious Crocodile Golf Trophy and an exclusive give pack was offered to the player of the tournament. Marketing Manager of Crocodile Kisani Dahanayake said that "this is one of many events and sponsorships Crocodile has linked with and we are looking forward for further developments and associations with golf in the future."