A product launched recently will provide farmers with free-of-charge mobile phone access to "spot and forward" agricultural commodity prices for the Dambulla, Meegoda and Narahenpita dedicated economic centres via short message service (SMS), call centre and internet facilities.
According to Govi Gnana Seva (GGS) Founder Director, and noted economist, Dr. Harsha de Silva, this facility, currently available only to Dialog customers, allows farmers the opportunity to access up-to-the-minute prices for agricultural commodities at dedicated economic centres and so choose the location where they can get the highest prices for their products, an important benefit for the millions of poor farmers attempting to go beyond just feeding their families into trying to earn a living.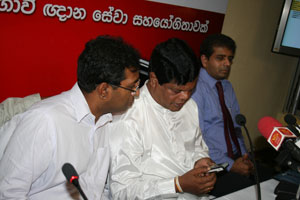 Dr Harsha de Silva discussing the SMS service with Minister Bandula Gunawardene in the presence of Dialog Telekom CEO Dr Hans Wijayasuriya at the launch. Pic by Berty Mendis
This will also be particularly welcomed by those farmers, suggests Dr. de Silva, who in the past faced situations where they had to dispose of their produce rather than transport it because prices were too low. "Now this is live, we hope to see large numbers of farmers using the actionable information to move themselves from subsistence to some form of agribusiness.
Our ultimate objective is to create an inclusive yet distributed agriculture exchange that will help millions of farmers move out of poverty", he added, elaborating that the first step would be "efficient agricultural markets".
Known as Dialog TradeNet, this new product, which can be accessed immediately by registering online at www.tradenet.dialog.lk, is said to be already providing prices as well as putting buyers and sellers in touch with each other.
Meanwhile, economic centre prices will be updated by GGS in conjunction with the Ministry of Trade, Marketing Development, Cooperatives and Consumer Affairs while Dialog has now taken on the funding for this project which initially began in 2002.