Business Club moves to a new home
After two years at the Cinnamon Grand Colombo, the Sunday Times Business Club moves to a new home – Hotel Taj Samudra from January 2010 onwards.
Twelve to 24 months from now Sri Lanka is going to have another foreign exchange problem as the country's exchange rate is misaligned with an overvaluation of as much as 20%, according to top financial analyst Murtaza Jafferjee, Chairman and Managing Dirctor of JB Securities.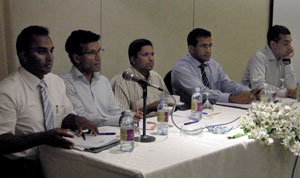 The discussion underway
Mr. Jafferjee made these comments to an audience comprising "young corporate executives, directors, CEOs and others in the corporate sector" at a recent Sunday Times Business Club forum on "Attracting Foreign Investment in a Post-conflict Environment" hosted by Cinnamon Grand and co-sponsored by Hameedia's. Joining Mr. Jafferjee, as part of an expert panel on foreign investment, was Thilan Wijesinghe, Group Chief Executive Officer / Managing Director of Forbes & Walker and a former Chairman of Sri Lanka's Board of Investment (BOI), and Duminda Ariyasinghe, the BOI's currently serving Executive Director for Investment Promotion.
Indicating that major deterrents to investment in the country were a lack of efficiency in processes and marketplace illiquidity caused by the capital currently circulating in the country being controlled by 300 large investors, who thus possessed undue influence; Mr. Jafferjee noted that for progress to be made in attracting and keeping large investors, broad-based investment had to be facilitated. He further stated that the war had been used as an excuse for a lack of success in attracting investment while, in the meantime, countries such as Israel had managed to attract substantial investment despite similar threats.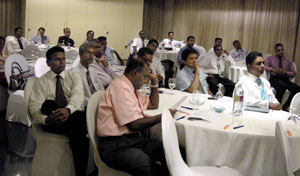 Audience
Citing reasons for poor investment which included an excessive rent seeking mentality making locals risk adverse, a focus on protecting producers instead of consumers, a perception by many that Sri Lanka is not a level playing field, and a lack of good human resources (poor math skills and an school leaving age older than countries such as India); Mr. Jafferjee however suggested targeting the large base of small and medium enterprises wanting to expand from countries such as the US that would otherwise be lost in India, since expatriate businesses have historically done well locally.
According to Mr. Ariyasinghe, the country is currently at an "inflection point" which would require getting it towards the sectors where it would have a strategic advantage. He added that all over the world, especially in the US and Europe, the "quantum" of foreign direct investment (FDI) had decreased. Further, he advised that Sri Lanka should learn from Malaysia, a country with a similar cultured diversity, due to its track record in growing its economy and thus the lot of each citizen.


Murtaza Jafferjee

Duminda Ariyasinghe
As such, he noted that the BOI was targeting sectors where the country had a competitive advantage. In the East, this was infrastructure so the best incentives were being offered to investors for the North and East. Another area of interest to the BOI was the outsourcing industry and so Malabe, Katunayake and Jaffna were identified as zones for these type of projects because of their close proximity to local and Indian IT hubs (via a short flight), English skills and education readily available in these areas.
Tourism was also being given a high priority according to Mr. Ariyasinghe. He added that there was a lot of potential for "explosive" growth in this area because, while Sri Lanka had maintained the same number of tourists since 1982 (about 450,000), Thailand had grown from one million tourists in 1982 to 13 million today. He also noted that agriculture, fisheries and dairy to be other areas of interest to the BOI. He concluded by stating that Sri Lanka would have record FDI growth next year, especially considering the latest year's amount of US$ 889 million.


Thilan Wijesinghe
Meanwhile, according to Mr. Wijesinghe, country risk had significantly impacted FDI so what was achieved so far was only a third of what was possible. He added that the country had a long way to go in terms of facilitating FDI and, as an example, indicated that there were 26 steps in freeing up state land for agriculture projects as of last year. He also noted that the future of manufacturing for the country was not competing based on cost but rather based on the strategic location of the island and its free trade agreements with India and Pakistan. He also indicated that, of the US$ 889 million FDI indicated by Mr. Ariyasinghe, a large part was due to IT and telecommunications investments and may not be often repeated.
Further, Mr. Wijesinghe suggested that while tourism should be a priority, achieving 2.5 million tourists should not be the ultimate goal. Instead, the focus should be on attracting tourists who spend greater amounts. Currently, the average tourist to Sri Lanka spends US$ 70 per day, while in Thailand a tourist spends US$ 150 per day. He also commented that currently much of the existing infrastructure development in the country was due to government to government credit through EXIM banks; about 800 infrastructure projects fell under this classification. Therefore, more should be done to attract FDI as it could ultimately mean the difference between 6% economic growth rate and 8%.