A team from Tigo Sri Lanka recently held talks in Riyadh with telecom giant Mobily where possibilities of establishing an understanding between the two telecom companies, aimed at exploring ways and means of maximizing on the Etisalat group of companies and synergizing operations to positively impact Sri Lanka, were explored.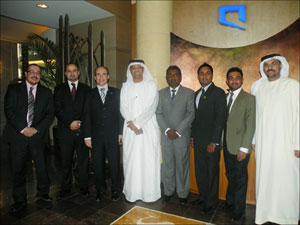 At the talks (from left) --- Samer Al Dameri, Senior Manager - Products and Services, Ghandi A. Eideh, Senior Manager - Consumer Segment, David Murphy, Chief Marketing Officer, Khalid Omar Muhsin Abdalla AlKaf, Chairman Etisalat , Sanjeeva Samarasinghe, Deputy General manager – Commercial,Gamika De Silva, Marketing Manager – Postpaid, Sunjeewa Perera, Senior Marketing Manager – Prepaid and Abdulrahman Ghaleb, Chief Business Support Officer.
In a statement, Tigo CEO Dumindra Ratnayaka said, "this sharing of expertise will help us move towards providing superior, more innovative and customer focused products and services." He said, "Etisalat has prominent global presence in the Saudi, UAE and the subcontinent- we hope to leverage on the stakes held in those countries in order to benefit Sri Lanka."
Etisalat recently acquired a major stake in Sri Lanka's Tigo, giving it ownership of the company.
Mobily is the brand name of the Kingdom of Saudi Arabia's key telecommunications company, the Etihad-Etisalat consortium. The consortium is led by Etisalat of the United Emirates telecom, which owns 27.4% of Mobily.
The statement said talks between Tigo and Mobily are an initial step towards creating a telephonic revolution in Sri Lanka, through increased global synergy in product and service range, and impacting core areas of international communications such as international roaming and international direct dialing.