A new kid in town
The Romeos at the Citadel are in a queue with their applications. (Even the happily married ones!) The reason – "for those who are there to welcome visitors and look after their welfare" have employed a young overseas school beauty as their secretary.

Leading the list is Cinder Lee who is even trying to get her as his private secretary.

Flexing his muscle

The one with the gaming background was in an ungainly mood at the opening of the Hill Country new location. The reason Cinder Lee and Mr. Roach were late for the function. The gaming man lost h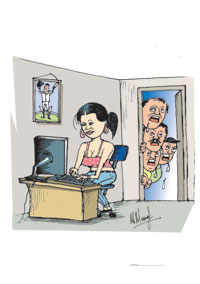 is temper upon their late arrival and berated them in front of the other distinguished guests making them a very, very uncomfortable lot.


Dogs of war

The female swimmer who called one of the coaches a 'dog' is under scrutiny by the swimming authorities they say.

Bishop to hear confession
Upon our revelation, the school authorities are contemplating an inquiry on the behaviour of the two young lovers who misbehaved within the school premises.

Talking shop
The new selector was giving a pep talk to the female cricketers. During his talk he also had warned the girls about the consequences of leaking news to the media. He had bragged "I have the money. I can buy off any of these news paper reporters". (Fat hope).

Oh! St. Thomas!!!
Doubting Thomas is in doubt. The secy thinks that he is the one who is responsible for the news leaks. But, little does he know that walls have ears.

Singing hosannas
Some people really do have to sing while others don't. There was an earful of praising the family and it happened very often. That is if you had volume on TV as you watched rugby. Sometimes it became so obvious. Shame for the game.