After being associated with Golf for nearly 18 years and playing competitive golf for more than 15 years, Kandasami Prabhagaran has decided to turn professional.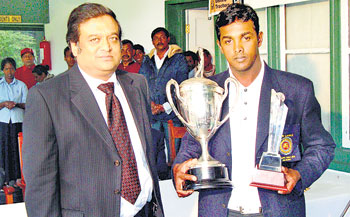 "I can't remember when I first fell in love with this wonderful sport." He said, "My Grandfather used to work at the Nuwara Eliya Golf Course and my family lived in the quarters there. I used to follow my grandfather on to the course and I remember watching and absorbing everything I could. I didn't know I was going to play the game but it was all so glamorous and I just couldn't get enough of it." He said with a laugh," I couldn't help but learn." He started off as a ball-boy at the tender age of 11 and went on to caddy at the age of 15 and had taken part in the local tournaments for ball-boys and caddies by then. "It's amazing to look back and to see how far I have progressed since then."

After his showing in these lower level tournaments he was drafted to play for the National Squad in 2003 and has been representing the country since then. He said he gathered immense experience travelling the world and playing in lots of amateur Asian tours and his most memorable tournament is when the Sri Lanka team won at the SAARC Games. "It was a special moment in my life, just to know that I had been part of a team which had brought glory to our small Island nation on the international stage was an overwhelming honour, and it will be with me always."

The decision to turn pro was not one taken over night he said, "I had been thinking about this for awhile now. Even though I do enjoy playing at the amateur level and it is an honour each time I represent Sri Lanka, it unfortunately does not yield much monetary rewards." He explained that since he got married and the birth of his son times have been tough financially. "It's not only me that I have to think of now, my son is 4 years old and I still live with my whole family in one compound. I would like to build a house for my son to grow up in, and I want to support him in any path he chooses in life so I need financial stability, which I'm sure professional golf will provide for me if I keep a clear mind and play to my best ability."
When asked if he wanted his son to take up golf he was quick to reply, "I have never asked him to play, but he does have a nice swing." He added with a smile and then he went on to state, "I believe that children shouldn't be forced to learn any sports, they should be encouraged to play. Later if they do show interest then it is fine to help them out with the technicalities. My son is only four years old if I try to teach him the finer points of golf at this age it will be too tiresome for him. I might put him off golf for life."

Will the turn from amateur to pro be too tough? "I don't think so," He announced full of confidence. "Golf is a game that is all about your mental state. So if I keep a clear mind and do what needs to be done, without getting drawn into all the hype surrounding the professional circuit, I should be fine."
"Golf is a game that is played on a 5 inch course - the distance in between your ears." - Bobby Jones.