CAPE TOWN, South Africa, Dec 4 (Reuters) - South Africa staged a slick and glitzy ceremony on Friday for the World Cup draw and Nelson Mandela said his country was humbled to host the soccer spectacular for the first time on the continent.

Africa's biggest economy has shrugged off persistent scepticism about its ability to stage the world's most watched sporting event and it pulled out all the stops for the draw, which will decide the first round matches among the 32 teams.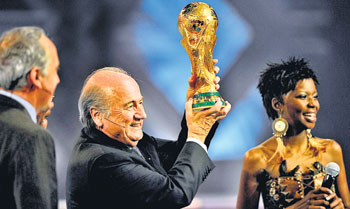 FIFA President Sepp Blatter holds up the World Cup trophy on stage at the Cape Town International Convention Centre (CTICC) for the World Cup 2010 draw in Cape Town on December 4, 2009. The draw itself sees the 32 teams divided into four pots of eight from which the eight groups that will contest the first round will be drawn. AFP
Organisers fielded three Nobel Prize winners including Mandela, Africa's most respected statesman, while its famous actress, Oscar winner Charlize Theron, hosted the draw.

International soccer greats, including England's David Beckham and former players Eusebio of Portugal, Roger Milla of Cameroon, Germany's Franz Beckenbauer and France's Michel Platini, who is the UEFA president, were also present.

As promised, the ceremony, watched by an estimated world television audience of 250 million from 200 countries, had a distinctly continental flavour with African dance troupes and singers fronted by Angelique Kidjo from Benin.

SINGULAR HONOUR

The programme included a video apparently showing lions, elephants and other wild animals playing soccer in the bush.

Thereon, dressed in a bright red ball gown, said she was proud to come home from America where she lives most of the time.

Mandela, now a frail 91-year-old and who spent 18 years on the bleak Robben Island prison offshore from Cape Town under white rule, sent a video message from his home in Johannesburg. "We feel privileged and humbled that South Africa has been given the singular honour of holding Africa's first World Cup", he said. "We must strive for excellence... to ensure the event leaves a lasting legacy for all our people," added Mandela, who became South Africa's first post-apartheid president in 1994 after spending 27 years in jail.

Current President Jacob Zuma, who also took part in the ceremony, said "We are very proud as South Africans and Africans" to host the World Cup, adding that everything was ready and on schedule for the tournament.

Zuma was sure the trophy would remain in Africa at the end of the month-long tournament, starting on June 11 next year.

African teams are tipped to make their strongest challenge at the 2010 finals, with Ivory Coast and Ghana leading the charge.