Six-year-old Akindu Gamage has perhaps undergone far more hardships than most adults. Robbed of his ability to hear, this little boy, his twin brother and his parents bear the tell-tale marks of their anguish over the past years.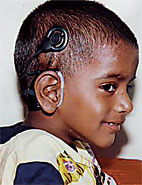 Little Akindu
Impaired by a hearing deficiency, Akindu had a cochlear implant -funded by generous donations -performed a few years ago on one ear. But the family is struggling to bear the overload of post-operation treatment costs.
Akindu is in urgent need of a 16 channel digital hearing aid, estimated at Rs. 200,000 to help him hear and overcome any imbalances in hearing. He also needs speech therapy (which costs approximately Rs. 500 per hour) four times a week as well as weekly mapping, which costs Rs. 2,000 per session.
He also needs a type of equipment which will prevent the formation of bacteria as well as periodic renewal of the magnets and batteries which are imperative for the hearing aid to function.
Akindu's family have valiantly attempted to fund these costs through various methods, but have faced an alarming number of obstacles. A projector which was donated to the family in order to earn an income through renting it out (one of their key sources of income) broke down a few months ago and efforts to repair it have proved futile.
His father Asoka Gamage, who earned extra income through photography has had to sell his equipment to fund his son's operation. Proficient in video editing and photo editing, Asoka appeals to any generous individuals to donate a computer and a scanner as well as the necessary photography/videography equipment in order to earn extra income for Akindu's upkeep in the future.
A special CD containing pirith chants and various sites of Buddhist interest, titled 'Akindu Kumaruta Suwa Wewa' is also being sold at the Vibrations CD Store, proceeds of which will be directed towards Akindu's upkeep.
"We do not want to be a burden to anyone" says Asoka, who simply asks for a helping hand for a better life for his child.
Donations can be directed to Seylan Bank Borella, Account No. 0820-01964396-101, addressed to Asoka B. Gamage or Akindu B. Gamage. The bank swift code for international donations is SEYBLKLX.