Working behind closed doors, Mia Bastrup and Layla have never formally exhibited their art. While they have that and more in common--both are mothers and have discovered their own unique forms of expression in contemporary art, their work is starkly dissimilar. One is a sculptor, the other a collagist.
Layla, a single mother, describes her enamel sculptures as something unique, not only to Sri Lanka but to the world. Enamel work is usually identified with jewellery, explains Layla, and not many people see it as an art form.
"I've always dabbled in art but how I came across enamel was that I was given an old kiln with no instructions and was just told to experiment," says Layla. "I checked it out online and once I had a fair idea, I got the material down and got started."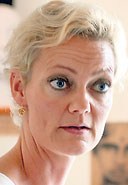 Mia
Layla creates her enamel pieces by melting, layer after layer of powered glass onto copper. It's all about handling the different colours of glass because the moment you melt it onto copper it gives a translucent effect. Each piece undergoes about 15 firings and has about four to five layers.
"Powered glass of different forms and grades has to be sourced from the States or the UK. And once or twice a year, I get the glass powders and then mix and match till I get the colour or texture that I want.
Abroad the enamel and copper sheets are ready made, the designs are all done and it doesn't inspire one to do something different, whereas here I buy the copper from Pettah and cut it, and burn it the way I want. Every time I try to experiment, I myself am surprised by the result, even when it's not successful," she smiles.
What she enjoys most is being able to experiment. Having never been taught the art form she works on gut instinct. "I've had beautiful pieces, that out of sheer greed, I'd sprinkle a little more coloured glass here and there, and put back in the kiln and then the whole thing would just get burnt - and end up as a massive black mess of charred copper and glass. And that has broken my heart a couple of times to be honest," she laughs. "But I'm learning, I'm learning to be happy with what I've got."
Moving to Sri Lanka last year with her family, Danish artist Mia settled down in Kandy and when renovating her house, stepped into a new world of possibilities. "I've been drawing and painting all my life and 10 years ago I started doing collages and using mixed media. While renovating the house in Kandy, I found I didn't like the glass framed canvases, so I thought to myself why not just do this myself!
"My art is sort of recycling or reusing of garbage. A lot of garbage is actually quite beautiful. And I use it in my collages trying to give it a new expression."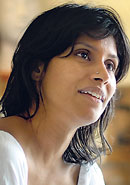 Layla
"In Demark I used more formal materials. Over here I use whatever I can find around me, which is more often not unconventional collage material, such as boxes, raw silk, and mosquito nets," she adds.
While Mia has no formal education in art she has a Masters degree in History and Culture. Highly intrigued by how different the Sinhala and Tamil alphabet is from the Latin alphabet that she is familiar with, she wants to know more about it and learn more about Sri Lankan society, culture and traditions.
"I want people to wonder about what they are surrounded by, both garbage and science. I want them to wonder what this is all about. If you're born in Sri Lankan it's natural for you to see Sinhala letters but for me it is different. I'm from a different part of the world so that's probably why I see the contrast," she says.
Explaining why she brought the two artists together Saskia Fernando says she saw a connection in their profiles and similarities in their work, in terms of technique.
Saskia also believes it is important for a gallery to exhibit new and unique work. "We don't have enough women artists in Sri Lanka; both these artists have young children and they have pursued their passion. In that sense I think it's important for women to know they can be artists as well," she adds.
Titled Closet Artists, the work of Layla and Mia will be on display from October 17 to November 8 at the Saskia Fernando Gallery, 61 Dharmapala Mawatha, Colombo 7.