It's been seven years since the Punchi Theatre arrived on the scene and in celebration, actors and directors are staging a week-long festival of drama.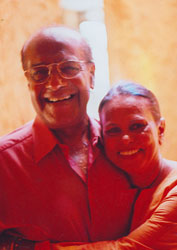 Namel & Manel
Well known director Namel Weeramuni whose brainchild the theatre has been along with his wife Manel has put together a full programme of events running from October 22 to 31 which encapsulates the theatre's contribution to the arts scene.
The schedule is as follows:
October 22 at 6 p.m: A musical show featuring Rohan Shantha Bulegoda, Ananda Senaratne and Priyanwada Madhubhashini
October 23 at 6.30 p.m: Namel Weeramuni's Natukkari
October 24 at 6 p.m: 12 short films of the young generation including BAFTA award winner Asitha Ameresekere's 'Do Not Erase'. Entrance is free
October 25 at 10.30 a.m: B.A.W. Jayamanne's 'Kapati Arakshakaya'; at 2.30 p.m: Sirisena Wimalaweera's Dingiri Menika; at 6 p.m. Titus Thotawatte's Hara Lakshakaya';
From 2-5 p.m.: a free seminar on 'Why we go to the theatre'
October 26 at 6.30 p.m.: Premasiri Khemadasa's 'Agni'
October 27 at 6 p.m.: Tamil play- Prabanjan's 'Muttai' directed by Mohan Kumar. Entrance is free.
October 28 at 6 p.m: Award-winning documentaries
October 29 at 7 p.m.: Tennessee Williams' 'The Outcry' directed by Namel Weeramuni.