Warning: Don't try this at home. Then again, while at home you can't really attempt Nilantha Zoysa's record-breaking exploits. While he's tried just about every adventure sport that can be done in Sri Lanka, this fearless young man is a professional at abseiling- a technique of descending a cliff or slope with a rope.
To date Nilantha, 28, has set seven abseiling records attested by the Sports Ministry including descending World's End and rappeling down the cascading torrent of water that is Bambarakanda, Sri Lanka's highest waterfall, all of 241 m.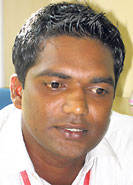 Nilantha Zoysa
Struck by a strong urge to try abseiling when he visited World's End at the age of 18, Nilantha left nothing to chance. After getting in touch with an experienced rock climber, teenage Nilantha made his first descent, accompanied by his school friends. That was in '99. This September, he celebrated 10 years of abseiling by descending Kotalagala, Nuwara Eliya setting a new record for doing it in four minutes and 26 seconds.
What makes Nilantha more of a daredevil than an adventure sport enthusiast, is that he does his stunts with no protection or appropriate equipment. Armed with nylon ropes, which as a rule, aren't used for such activities, he attempts his adventures clad in just a short- sleeved t-shirt and trousers, with no headgear or guards for protection.
He's had a fair share of mishaps and can describe in graphic detail how he's had smaller rocks that get dislodged during his descent on a rock face, come tumbling over him. But with proper protection and gear normally climbers have nothing to worry about, he assures.
"All stunts are dangerous but that's what I like about it. Even if you plan ahead there are times when things can change, such as the weather being unpredictable. Like the time I was abseiling in Badulla in 2003 - just as I took off, a thick screen of mist set in and I couldn't see my friends below.
There was another time when I set my Diyaluma record for descending the waterfall in one minute and three seconds. It rained heavily that day and the winds were strong making the descent perilous," Nilantha recalls.
Describing his most recent descent, he says, "I had hoped to start the Kotalagala descent at 9 a.m. but instead I ended up doing it at 9.30. I was at the top at 8.30 when I received a message that there was a problem. I looked down and saw people running. It turned out the problem was bees, a rather large type known locally as 'Beena'. The Guinness record committee member who was under the rock at the time, had to be admitted to hospital. So problems do arise but I go ahead."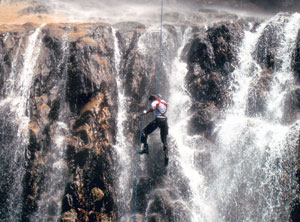 Making his way down the Diyaluma falls
As part of an expedition to the Everest base camp, on Mount Everest, in April this year he braved freezing temperatures and strong winds for 19 arduous days.
And where did this passion come from? During his schooldays at Dharmashoka College, Ambalangoda Nilantha was an ardent sportsman, for whom all sports beckoned- swimming, badminton, cricket, volleyball and football. Feeling that this wasn't enough for him to explore his full potential he ventured into new territory, he explains. And the rest, as they say, is history.
However, it hasn't been smooth sailing for this plucky abseiler. Nilantha, who is currently employed at Brandix ActiveWear, explains that the dearth of funds and sponsors, shortage of facilities and the lack of recognition for the sport have proved to be significant barriers.
Preparing for these feats is a meticulous process that requires a lot of planning. His eight- man team, the same school friends who have stuck by him through his decade of abseiling, assist him as he prepares in advance for each descent.
Apart from the physical exercises he does -running, swimming and bicycling, he also stakes out his chosen location in different weather conditions to plan his descent carefully. "I have no supporters," he says candidly, "It's only me and my team."
Elaborating that while he hopes to promote this sport and share his experiences with others with a similar passion for adventure, Nilantha intends to take on greater feats and continue doing what he loves. "This is my sport," he says, "this is my life."