In 2006, Tharushan Pathirajah, just one year old was diagnosed with a rare congenital anomaly of the heart. While his doctors had given up hope for the child, his desperate mother pressed on in her search of funds to have the complex surgery that was required to save his life.
As fate would have it, she met someone on a bus who informed her about Mercy Mission, a team of top British doctors who visit Sri Lanka for 10 days each year and perform the most complex of paediatric cardiac surgeries. Today Tharushan, a healthy four- year-old, sits on his mother's lap, watching the bustle around him with wide eyes.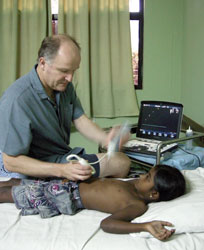 Dr. John Simpson: Deputy Leader and Trustee of the Mercy Mission.
Little Tharushan is one of hundreds of children referred to the Guy's (Paediatric Cardiac) Surgery Mercy Mission to Sri Lanka and one of their many success stories over the past years. Tharushan's grateful mother explains that the mission came as a godsend when she had all but given up hope. The doctors successfully performed ALCAPA (Anomalous Origin of the Left Coronary Artery from the Pulmonary Artery) surgery on the infant, saving his life.
Back in Sri Lanka once again, this year the 12-member team has been at the Karapitiya Hospital in Galle since October 10, working tirelessly to help their young patients. The process of selecting the patients is done in collaboration with the Karapitiya Hospital. Some children are referred to the mission while others are selected upon examination during their visit. The more complicated surgeries are done by the visiting team, providing the opportunity for the medical team at Karapitiya to witness the operations and receive training from experts in the field.
The Mercy Mission began as a result of the camaraderie which had sprung up between Sri Lankan Jai Lameer and his Dr. in the UK, Conal Austin after he performed a heart by-pass operation on Jai. The desire to carry out operations on children in Sri Lanka voiced by Dr. Austin blossomed into the Mercy Mission which has operated on 86 children and seen over a thousand since 2002. The mission which initially started off in Colombo is now conducted in the Karapitiya Hospital, Galle.
"Paediatric cardiac surgery is in an early stage in Sri Lanka," explains Dr. Namal Gamage, head of the Cardiac Unit of the Karapitiya Hospital. The mission comes at a much needed time when the lack of expertise, surgical staff and resources in the country means that all the medical needs of children cannot be met, he says.
"The children can be seven or nine years old with conditions that are normally treated when they're infants. We see a lot more advanced cases here than we see in the UK. So we've got to accept that there are higher risks," explained Dr. John Simpson, Deputy Leader and Trustee of the Mercy Mission.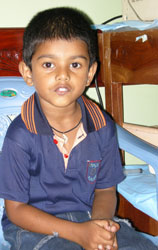 Tharushan today
The pleasure of seeing their former patients leading normal lives is immense. "Children who've had operations visit us the following year and that's very encouraging. We like seeing them better; some of them are completely transformed," smiles Dr. Simpson.
Funding the mission all these years had its challenges, says Jai Lameer, trustee and coordinator of the mission. "My wife and I, and part of the family did help quite a bit at the beginning. But things have changed a lot since we have proved ourselves over the years. Now funding isn't an issue. I've got enough that I need for the next three missions," he adds.
A registered charity, voted 'Most Outstanding Sri Lankan Charity in the UK' in 2007, Mercy Mission is now more able to help Sri Lankan children. "People know that we are giving results so costs are less.
But what is increasing is that we have to buy a lot of equipment here because stocks are low in the hospital. Just to get the amount of operations done we find that we have to purchase new things," explains Jai.
While Mercy Mission is geared to perform cardiac surgery on children, there have been instances when they've taken on young adults.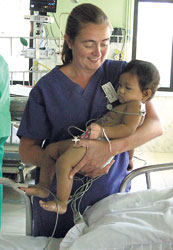 A little TLC from a team member
"The oldest person we've operated on here was about 19 or 20 years old. Age isn't a barrier apart from the fact that the team that we bring with us is specialized in paediatric cardiac surgery.
So age is not an absolute barrier for anything but most of our focus is on children," said Dr. Simpson, adding that if the paediatric team is willing to take on a young adult they certainly would perform surgery on the patient.
In fact this year, they planned on treating a 21-year-old girl from an IDP camp who was diagnosed with a heart defect at the age of four.
Unable to collect the funds for the required surgery she has miraculously survived till the age of 21.
Being able to give children who- due to their situation in life, would not have survived infancy a second chance at life, is what keeps these busy surgeons dedicated to their mission.