She lives in one of the many crowded guesthouses that have mushroomed in Vavuniya. Twenty-six-year old Kamala, in blue jeans and striped T-shirt, is tall and big made. She digs into her handbag, pulls out a pink lipstick and moistens her lips before shaking my hand.
She points to a table in the corner of the air conditioned but empty restaurant. "Have you eaten? Can I get you something to eat or drink," she asks as we settle down to our chairs. "A coke," I reply and the conversation begins. "Tell me the name of the person, zone and tent number," she says. I was ready with the answers.
Together with the contact I met earlier at a location in Vavuniya town, I had arranged to meet Kamala to seek the release of an Internally Displaced Person (IDP) at Menik farm.
An extent of 1,000 acres of state land in Chettikulam, 35 kilometres southwest of this northern town, the gateway to Wanni, forms the area where families displaced from the just concluded separatist war are located. Barring small numbers in Jaffna and Trincomalee, the vast majority live here in makeshift shelters in six different zones.
My contact had rehearsed the drill with me. I was to seek the release of an imaginary uncle. The money for this was coming in foreign exchange from his brother in Canada. An inmate inside a camp agreed to play "uncle" and even used a mobile phone.
Kamala fires a volley of questions. "Before they became inmates of an IDP camp, where did they live? What are their family names? Where do they want to go? Do they want themselves released from the camp to travel abroad, to travel to Colombo or remain in Vavuniya?" There were many more. Though she spoke in Tamil, she was conversant in English. Our conversation halted every now and then when her mobile phone rang. She would say, "I am with a client. Call me later." On one occasion, she told a caller "your matter is okay. She is coming out tomorrow."
She picks her mobile phone and rings my "uncle" in the Menik Farm. She gives him the good news that she would get him out soon. He pleads with her that she should not charge a large amount. He says he had lost his wife and all his belongings during the fighting. "My brother is willing to send the money. Please be reasonable. He is unable to remit a big amount from Canada. He is a paid employee," my "uncle" pleads with Kamala.
She turns to me. Her face lights up as she smiles. "You are lucky. The prices have now come down," she says. Kamala then reveals her rate plan.
The fee to secure the release of an IDP from a camp and "deliver" him or her to Vavuniya is Rs 100,000.
To secure the release of an IDP from a camp and "deliver" them to Colombo or the Bandaranaike International Airport (BIA) is Rs 500,000. Travel and visa arrangements, however, would have to be made by those securing the release.
I protest that Rs 500,000 is too much. I tell her that my "uncle" would have to keep some money with him for travel to Canada. Kamala's facial expressions change. "I have to share this amount with others who help me," she says in a tone that shows she is annoyed.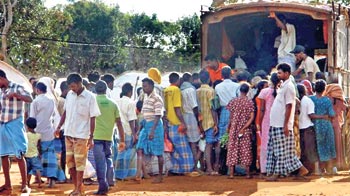 A lorry in which fish is brought for sale inside the Menik Farm IDP camp in Chettikulam.
"The going price to bring someone to Colombo or the airport was earlier Rs 700,000 to 750, 000," she says in a bid to convince me that her price is reasonable. "If it is to deliver someone in Vavuniya, I will charge you only Rs 100, 000. I will bring the person within four hours after you pay the money," she promises.
After showing some reluctance, I agree. Kamala explains the procedure involved. "Once I make all the arrangements, I will give you the account number of a Bank in Colombo. You will have to deposit the money there. I will deliver your uncle in Colombo," she says. She is happy. She shakes my hand and promises to telephone me. She agrees to clear all "formalities."
The conversation continues. I ask her how many such IDPs has she successfully released. I tell her politely that I want to be convinced that she is genuine. "I have taken out about 12 persons so far. Trust me. I will not let you down," she says. I learnt from other sources familiar with her trade that the number is much higher. This is because she is sought after.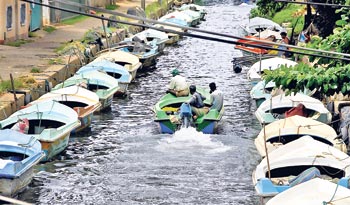 The starting point for illegal departures, the Hamilton Canal at Duwa in Negombo. Traffickers take four to five would be asylum seekers in fishing boats to board multi day fishing trawlers in the high seas.
This is an account from a conversation a member of the Sunday Times Insight Team had with Kamala, one of the many agents in Vavuniya. With the support of leading members of paramilitary groups, they are carrying out a lucrative trade smuggling out IDPs (Internally Displaced Persons) from heavily guarded camps for a fee. Some have bought their way to freedom to live within Sri Lanka. Others have fled or are fleeing the shores to seek asylum abroad, our investigation revealed.
Like Kamala, other agents also operate from guesthouses, communication centres and even homes. Those offering food and lodging in Vavuniya are doing brisk business. The next of kin of IDPs have filled them. Some have arrived from abroad whilst most others are from Colombo.
They reach the town by train, register their presence with the Police and make a beeline to the agents. Word has spread through the grapevine about the agents and their locations. Kamala was one of those better known.
"I am aware that people are leaving the camps illegally. But we do not know how this is happening," says Rishard Bathiudeen, the Minister for Resettlement. He is the Government Minister responsible for re-locating inmates.
"There were times when people went for treatment to Vavuniya hospital and escaped from there. We could not trace them," he says citing just one example of how the IDPs go missing. Some of the other escape routes, we learnt, were in lorries that bring vegetables and fish for sale inside camps.
Life inside eight square feet tents is a little easier for those who have money and a misery for others. During the day, some of the inmates plant a few sticks, place their clothes as sunshade and sleep beneath. Some tents form schools whilst others are sales outlets for food items.
There is also a Bank within. Remittances arrive there for inmates lucky enough to have relatives overseas. Hygienic conditions are poor and children often fall ill. On August 27 three children died. The cause, we learnt from the Judicial Medical Officer's office in Vavuniya, was septicaemia (blood poisoning or invasion of the bloodstream by virulent micro organisms).
The Government has intensified its efforts to resettle them. However, there are insurmountable difficulties. Mines and other IEDs (Improvised Explosive Devices) have to be cleared and structures built before families could move in. Their efforts have been hampered by the onset of heavy rains.Ten years ago, K. Adhiharan (32) moved from his home in Ariyalai, Jaffna to the Wanni. Together with his wife and two children, he has now ended up in Menik Farm. He had a steady income working as a spray painter in a garage in the then Tiger guerrilla-controlled Puthukudiyiruppu. "Today, I am a pauper. I know how to get out of here if I have the money," he says.
Sugandhi Manoharan (36) is from Columbuthurai in Jaffna. She moved to the Wanni in 1995. She lives in the camp with her five-year-old son Aaghavan. Her husband is under detention but she was allowed to visit him. "I was approached by parties who want large amounts of money to get me out of this miserable place. We are poor. Those whom I knew paid and are now in India," she says.
One of the many such persons who left Menik Farm and found their way to India, we learnt, was M. Tirunavukkarasu and his brother M. Wasanthan. Tirunavukkarasu was a lecturer at the University of Jaffna and was known to be a "political researcher" for the outlawed Liberation Tigers of Tamil Eelam (LTTE). The duo was among those arrested by the Indian Coast Guard and detained at the Mandapam Refugee Camp. Tirunavukkarasu's presence became public after the South Indian magazine Anantha Vikatan published an interview with him in July this year.
Though cheaper, we learnt that agents now discourage travel to India in view of the heavy risks involved. Both the Sri Lanka Navy and the Indian Coast Guard have intensified patrols. However, at one time, this remained a cheaper route. Besides the Rs 100,000 to secure their release, most IDPs paid only Rs 10,000 each for a boat ride across the Palk Straits. The journey takes three hours under good weather conditions. The point of departure was from the shores of Mannar. Proof of this remains displayed inside the Fort area where the identities of those entering this western seaboard town are checked for their identity at a Navy guard point.
Residents of the area could proceed after their identities are verified. However, those from the Jaffna peninsula, the Wanni and Trincomalee areas are required to surrender their National Identity Card (NIC) and obtain a token. This serves as a pass. Displayed on a board at this checkpoint are 35 NICs not re-claimed so far. The Navy has sought the assistance of the public to trace the persons concerned. We learnt that most have crossed over to Tamil Nadu.
The recent arrest of a local politician came as further proof. The Criminal Investigation Department (CID) took into custody E. Harichandran, the Mannar organiser of the Eelam People's Democratic Party (EPDP) with his four Police bodyguards. His driver has gone missing. The CID is probing his involvement in trafficking IDPs from their camps. With the Police security travelling with him, we learnt, his vehicle had a free run.
Members of the paramilitary groups operating in Vavuniya, the Sunday Times learnt, have unhindered access to IDP camps. Their vehicles, known by the military and police, are often not subject to stricter checks. However, some IDPs allege that the agents were bribing Police or soldiers with money and expensive gifts like state-of-the-art mobile phones. Both the Army and the Police strongly denied these allegations.
"That is not possible as all the IDPs in the camps are accounted for. Our security forces operating the security camps have a close eye on those in the camps. There is no possibility of anyone going missing", says Brigadier Udaya Nanayakkara, the Military Spokesman. He adds, "There are no reports of any involvement of security forces. If we do find there is such involvement we will definitely take action." He also said, "These are false allegations" since "there are no persons going missing from the camps." Police Spokesman Senior DIG Nimal Mediwake, added, "The Police are not responsible for the security of the camps. They are only responsible for carrying out investigations about LTTE suspects". He said, "I have not got any reports of any illegal act by policemen detailed for investigations in the camps" He asserted that, "We deny that the police are involved in any illegal acts of smuggling people out of camps"
The exact number of those who have paid for their freedom from IDP camps is unclear. However, a pointer that it was large emerged from officials and political leaders in Vavuniya. "More than 10,000 persons have escaped from IDP camps here says Ms P.H.S. Charles, Government Agent, Vavuniya. She is the senior most Government official in charge of the Vavuniya district. "I have already sent an official report to the Security Forces Commander (Wanni) about this," she told the Sunday Times. "The population in IDP camps which stood at 280,000, she said, has now come down to 240,000.
Some of them have been officially cleared to leave the camp and re-settle in their original homesteads," she added. Ms Charles said she would call upon IDPs "not to get caught to unscrupulous persons" who are involved in rackets to secure their release. She said the Government has assured them that they will all be re-settled. Others in Vavuniya including local politicians familiar with the goings on told us the figure was much higher. They say it would be a staggering 20,000 persons or more but independent verification of these claims is not possible.
The Controller of Immigration, P.B. Abeykoon believes most persons now leave Sri Lanka illegally by boats. "Human trafficking through the airport has reduced drastically due to security measures we have adopted," he told the Sunday Times. However, he added, "We still have a problem. We have people producing false documents such as Birth Certificates or National Identity Cards," he said. Every day, he revealed, "we get about 10 to 15 cases involving forged documents.
" Job agents and others involved in human trafficking are giving them to applicants for passports. "We hand over such cases to the Police Fraud Bureau," he said. Most are those who do not have a birth certificate or a NIC, he pointed out.
A Human Trafficking Unit has been set up at the Bandaranaike International Airport (BIA). Personnel from the Department of Immigration, Criminal Investigation Department (CID) and the State Intelligence Service (SIS) staff it. The move is the result of pressure from several foreign Governments whose maritime agencies have intercepted boatloads of Sri Lankans. They include Indonesia, Australia and New Zealand. In the light of stricter controls, movements to Cyprus, Italy and some European countries have almost ceased.
The development has caused serious concern for the Australian Government. In July, this year, two Ministers from Canberra arrived in Colombo to raise issue with the Government. They were Chris Evans, Minister of Immigration and Citizenship, and Peter Woolacott, People Smuggling Issues Ambassador. Australia has already agreed to fund a biometric detection system, which helps track a passport holder's physical characteristics. This is together with the International Organisation for Migration (IOM), a UN agency.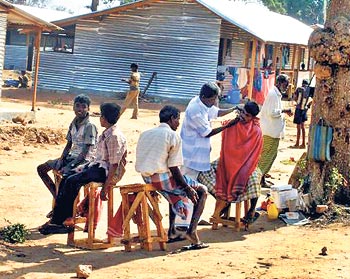 A barber carries out his trade in the open at the IDP camp in Chettikulam
Among the IOM programmes in Sri Lanka, Stacey Winston, Information Officer, said was "providing latest technologies and training (provision of modern document inspection equipment and other verification systems/application imaging technology) forgery detection training and equipment to Immigration and Emigration Department."
Immigration Controller Abeykoon said his Department would soon launch an awareness programme through the media. That is to make the public aware of the dangers of using illegal channels to travel abroad. The IOM would also provide assistance for this purpose.
Mr. Abeykoon's remarks underscore the fact that a sizeable number of Sri Lankans are using illegal channels to leave Sri Lanka to seek asylum abroad. This is because of tighter controls his Department continues to introduce at the BIA.
On April 23, this year, the Negombo Police carried out a night raid on a house in Duwa. Forty-seven persons bound for Australia were arrested. They were to board smaller boats from the Hamilton Canal at Duwa. In groups of four or five, they were to proceed two nautical miles from the shore.
There they would board a multi day fishing trawler for their voyage. All of them carried US dollars. They possessed diaries in which the phone numbers of "contacts" in Australia were given. Warnakulasuriya Anthony Fernando from Negombo is now facing charges before Courts in this regard.
On August 5, this year, 32 persons from Kochchikade were arrested. Most of them were earlier residents of Vavuniya. However, the kingpin behind this human smuggling operation had escaped.
A high-ranking Police official in the Negombo Division spoke to the Sunday Times about human trafficking. He said though he wished to be identified, a circular from Police Headquarters that only their Spokesman would deal with the media prevented him from doing so. This is what he told us: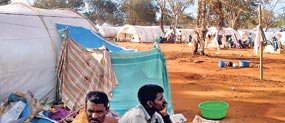 A scene at Menik farm in Chettikulam
"Human trafficking is going on from some of the coastal areas like Wattala, Kandana, Pamunugama, Negombo, Kochchikade, Thoduwa, Wennappuwa and Chilaw. The vast majority of those who want to travel abroad are from the Wanni. They have to pay anything between Rs 1.2 to Rs 1.5 million. There
are instances where people, almost all from the North have raised the money after selling their gold or from remittances from relatives abroad.
"The kingpin operates through a string of contacts. The latter passes information about boat movements to trusted job agents. They also inform some of the lodge owners in Colombo. After payments are made, the kingpin arranges accommodation for would be travellers for one night. The next night, they are moved to the high seas in smaller boats.
"After they get into the boats, they are in God's hands. We have known instances where people have died of disease, hunger and dehydration. There are instances where sea pirates have robbed them. Boats have capsized due to bad weather. Usually, about 35 persons travel in a multi day fishing trawler. Food, water and fuel sufficient for three weeks are carried. In addition, they carry basic medical needs like aspirin, bandage, surgical tape and pain killers.
"Our biggest problem in dealing sternly under the law with the kingpins is the political pressure. They are closely linked to powerful local politicians. There have been instances where officers making detections being threatened with transfer orders. An important detection can follow telephone calls from the powerful asking that the suspects be released. They say the persons are their strong supporters. We are then projected as anti-government officers harassing their people."
The vicious circle continues to grow. So does human misery and dreams of a good life abroad.
Additional reporting by the Sunday Times Special Correspondents in Vavuniya and Mannar. They do not wish to be named. (ENDS)