The city of Galle is well-known for its colonial past especially in the Fort area with the light house and the clock tower being the cynosure of tourists in particular and local visitors in general. But the clock faces on the tower display four different times with its bells pealing most of the time.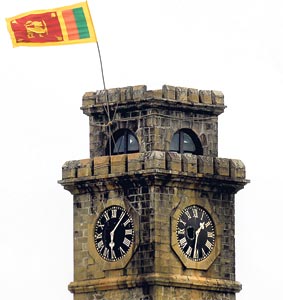 The clock dials showing different times before the repairs were effected
The 124-year-old clock tower loses its majesty with this flaw. Inspite of its flaws it bears a long history. Where the clock tower stands now, earlier there had been a giant bell which had been removed to make room for this tower. P D Anthony who had the distinction of becoming the first local doctor to receive membership of the prestigious English doctor community, was a member of the Galle Municipal Council at the time.
It was he who cured a philanthropist from Kosgoda named Samson D Rajapaksa when he was seriously ill. In appreciation of being cured he is said to have had this clock tower built.
It has a height of 150 feet and is made of a single variety of rock. An English clockmaker identified as John Morrison of Packington Street, London is said to be responsible for installing the clocks.
In 1975 the clocks were repaired for the last time and since then there has not been any repair done.
When the last international cricket match was being played in Galle, TV viewers all over the world would have seen the clock faces denoting four different times.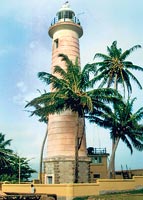 The light house which is also an attraction
Galle Mayor Methsiri de Silva said that a certain company requested Rs. 565,00 for the clocks to be repaired but an officer from the Galle Navy camp who visited the place said he could attend to the repairs at no cost.
Subsequently a team from the Magalle Army camp had carried out the job within two weeks.
Galle residents are happy that the historic monument is back to normal with the bells pealing the correct time now.
The repair work was coordinated by Lt.Godakanda and supervised by Commodore R C Wijegunaratna.
Most of the parts that had been removed by vandals had been replaced by the Navy which turned them out in its workshop.