The Federation of Ceylon Electricity Board (CEB) Trade Unions has vowed to stage a three-day strike within coming weeks as the CEB had not changed its stance regarding demands made by workers.
The Consortium of CEB Trade Unions held discussions with government regarding four demands which were: (i) to increase workers salaries as has been customary every three years, an increment was due this year, (ii) stop the privatization of the CEB, (iii) restoration of overtime allowance and (iv) implementation of a medical scheme and an immediate change to the compulsory retirement age.
On August 28, the consortium of trade unions organized a token strike in which many unions participated.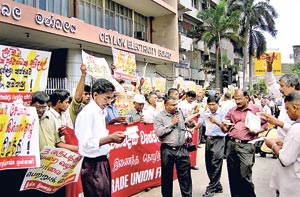 CEB workers demonstrating outside their HQ
In response government beefed up security at power stations anticipating acts of sabotage by striking unions. The Consortium of CEB Trade Unions has a membership of 9,500 and is demanding a 40% salary increase which is due every three years.
The CEB last increased its employees salaries in 2006 and employees were due to receive their increment in January 2009. General Secretary for the Consortium of CEB Trade Unions, Ranjan Jayalal told the Sunday Times they would call a three-day strike within the coming weeks which would affect the whole country.
"We will be holding a CEB unions convention soon. An exact date has not been fixed, but it will be in the forthcoming weeks. At the convention we will announce the date on which we will be going on strike. This strike will affect every part of the country and the CEB will be compelled to give into our demands," he said.
"The token strike on August 28, was a success. A large number of CEB employees did not attend work. There were blackouts reported in Moneragala, Pottuvil, Dehiyaththakandiya, Trincomalee, Badulla and Pellmadulla. For nearly 24 hours these places did not have power and the CEB did not have sufficient manpower to attend to repairs," he said.
"We held a series of discussions with CEB officials and the Minister regarding worker welfare and rights, plans to hand over generation of power to a few private companies and our fear that this would burden the consumer as private companies would control prices.
However our discussions proved unfruitful as no solutions were provided to the issues," he said.
Power and Energy Minister John Seneviratne told the Sunday Times the CEB was not in a position to increase employees' salary this year. He added he had explained this to the unions and promised salaries would be increased in 2010.
"This has been a very difficult year for the CEB and we are not in a position to increase salaries. We will be able to make salary increases only at the beginning of next year," he said. Minister Seneviratne rejected allegations of plans to privatise the CEB. "There will be no privatisation of the CEB. We have explained this to the unions and members of our staff.
The strikes and allegations are all politically motivated to reflect badly on the government. The token strike organized on August 28 was a flop. There is no change in our stance," he said.