Residents and authorities are at loggerheads over a South Korean aided Rs 600 million-garbage disposal project in Maligawatte in Dompe.
The Ministry of Environment has earmarked 15 acres in the centre of a 77-acre commercial timber forest, for a final-disposal facility for all types of garbage. It will include compost plant for biodegradable waste, a recycling area for certain types of plastic, polythene, iron, glass and an engineered landfill for non-biodegradable waste.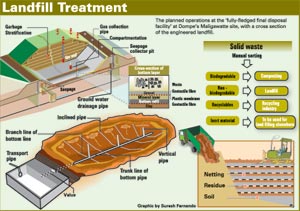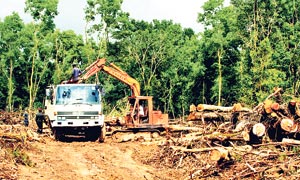 The site had been cleared by the State Timber Corporation. Pix by M.A. Pushpa Kumara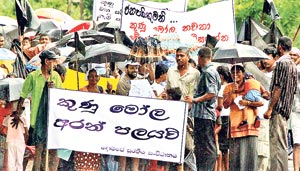 Recent protests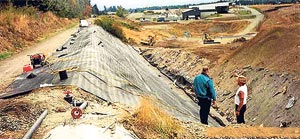 Similar project in South Korea
M. Rathnadeshapriya of the Dompe Surakeeme Sangvidanaya alleged that the authorities were planning to bring garbage from places such as Bloemendhal. He had led a public protest only days earlier. Waving a petition they will be sending to President Mahinda Rajapaksa, the Sangvidanaya's Rohana Priyantha said well water would get polluted and the beautiful forest environment which many schoolchildren visited would be destroyed. "Why do we need such a costly garbage disposal project," he asked.
However, Environment Minister Champika Ranawaka strongly defended the pilot project. He said only garbage in the Dompe area will be sent here. He said this long-term plan for the area will cover the management of all types of garbage at one site and was ideal for replication across Sri Lanka.
The Chairman of the Dompe Pradeshiya Sabha S. Jayawardena backed the Minister. He said criticism was unfounded. Six tons of garbage are collected daily from Kirindiwela, Dompe, Pugoda and Keragala, he said. "This is dumped at four different sites and there is no waste management plan," he said countering claims that only one tractor load was collected in Kirindiwela.
The Dompe venture is part of the ambitious Pilisaru Project' to make Sri Lanka garbage-free by 2012.
The site had been cleared by the State Timber Corporation on the instructions of the Forest Department and the axed 2000-odd trees, acacia, pinus, Indian del categorized as 'Class 3' timber were ready to be transported out.
The South Korean government has pledged Rs. 600 million for this 'fully-fledged final disposal facility' at Maligawatte, Dompe, it is understood, under a massive donation of Rs. 21 billion it hopes to provide for the Pilisaru Project, a garbage management initiative of the ministry.
In Kirindiwela, the garbage is usually dumped in a marshy land adjoining the Upali Gooneratne playground, for lack of a site, it is learnt. It was in 2007-2008 that complaints were lodged with the Central Environmental Authority (CEA) about this.
Lengthy discussions with local government bodies uncovered the complex issues of garbage management. "They just didn't have the funding, the technology and the equipment to deal with garbage," says Mr. Ranawake.
An apex body -- Pilisaru Platform –which included all stakeholders such as ministries, institutions, NGOs, environmentalists and professionals was created, it is learnt. The first step, thereafter, was to draw up a National Policy on Waste Management, the Minister said, which the Cabinet approved in 2007. An Action Plan and Strategy followed.
"Long-term plan for the area will cover the management of all types of garbage at one site and was ideal for replication across Sri Lanka". -

Minister Champika Ranawaka
The target of a garbage-free Sri Lanka by 2012 and the Environment Ministry launched the Pilisaru Project, inviting the 331 local authorities. This is to seek support through the CEA, in terms of financial and technical assistance and also equipment.
The local bodies have to demarcate land in their areas and draw up garbage management projects specific to their areas, in keeping with certain conditions such as not damaging the environment, a ministry official said.
| | |
| --- | --- |
| | |
| M. Rathnadeshapriya | Rohana Priyantha |
Implementation began in June 2008. Seventy-nine local authorities took up the offer and projects are working well in those areas, says the official mentioning Balangoda, Bulathsinhala, Bandarawela, Bandaragama, Horana, Kaduwela, Negombo and Weligama. Agreements with 28 more local bodies have also been signed.
Citing the example of Bandarawela, meanwhile, Minister Ranawaka pointed out that 10 tons of garbage generated each day were usually heaped on roadsides, but in July this year a 3 ½-acre compost yard was opened along with a sales outlet. The organic compost is now being utilized for tea and vegetable cultivations. The plastic bottles are recycled, with the Sanasa Pilisaru Bank buying a kilo at between Rs. 20-80 from housewives, giving them some earnings.
He, however, concedes that no solution has been found for Bandarawela's 10% of non-degradable waste. "They are keeping it stocked at the site, that's why the Dompe sanitary landfill will be a model for other areas to follow."
What will happen at Dompe's Maligawatte site?
When the trucks roll into the 'final disposal facility' and unload the garbage, it is to be manually sorted as 'biodegradable', 'non-biodegradable', 'recyclable' and 'inert' material and stored in different bins for treatment, according to the Initial Environmental Examination ( IEE ) Report.
The biodegradable stuff (food waste etc.) will be sent for composting, the recyclables (certain types of polythene, plastic, glass and metal etc.) collected into sizable quantities and sold to industries needing them and the inert material (construction waste such as bricks, concrete etc) utilized for filling purposes elsewhere.
The non-biodegradable material (such as heavy metals and some e-waste) will be managed in the basin-shaped engineered landfill which would have been prepared by laying plastic joint sheets, guaranteed to last at least 150-200 years, followed by a sponge layer and a clay layer on top. This is to ensure non-leakage into surrounding areas.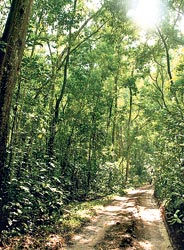 The forest that residents allege will be destroyed because of the project
Then only will a layer of non-biodegradables be dumped followed by a thick layer of soil before another layer is put in, a ministry official said, explaining that such landfills can be used for long periods.
The high-tech landfill planned for Dompe's Maligawatte has been tried out and is functioning not only in South Korea where Seoul itself has one, but also in America and Germany , the official said, adding that some have even set up eco-parks over such landfills.
If garbage is just dumped somewhere and then covered up with soil without taking precautions as at a landfill, the seepage from such waste invariably contaminates the surrounding areas, Minister Ranawaka said, pointing out that a study carried out by theUniversity of Sri Jayewardenepura has indicated that wells in a radius of 3 km were polluted by the garbage dumped at Nawinna.
Two more landfills are planned for Alawala in Attanagalle and Waga in Avissawella. With regard to clinical waste, Minister Ranawaka said that hospitals have been given time to set up their own disposable systems within their premises. The other challenge being e-waste, collection bins have already been introduced at some government institutions and arrangements have been made to hand back collections to those who sell them in the first place like telephone companies.
Disposal Issues around the country
The Colombo Municipal Council area generates 700 tons of garbage a day, Municipal Commissioner Badrani Jayawardene said, explaining that measures such as distribution of compost bins to households have been taken to reduce the amount collected to minimize disposal issues.
Waste management problems revolve round the three areas of collection, transportation and disposal, she said. "We have requested the Pilisaru Project to provide 10,000 compost bins. This will reduce the collection of organic material. With regard to transport, the CMC 's garbage trucks are 20 years old and prone to constant running repairs. We are hoping to get three new vehicles and some equipment," she said.
However, finding a suitable rubbish dumping site has to be addressed, she said and the Sunday Times understands that to process such a large amount about 25 acres are needed.
As the garbage mountain at Bloemendhal is over-used, moves are underway to halt more dumping there and then sort and treating them accordingly, a ministry official said. "To prevent leakage from Bloemendhal, the waste will have to be sealed and finally an eco-park set up on top."
Meanwhile, there is also a proposal to develop a 70-acre land of the Sri Lanka Land Reclamation and Development Corporation, along with a wetland mitigation plan. This is to ease the impact on the wetland and ensure water retention and filtration aspects.
Balangoda
Ten tons of garbage are generated and those days it was dumped in the middle of the town. Now it is sorted in a concrete shed erected with precautions to prevent contamination of the environment and a certain amount sent for composting and another amount for recycling, said Urban Council Chairman Nimal Gamini Weerasinghe.
Any clinical or e-waste found are put in polythene bags and buried deep underground, he said, adding that hospitals, on the advice of the council, usually bury their own waste.
Bandaragama
Before Pilisaru, the garbage in Bandaragama, amounting to about 25 tons a day was taken to a designated land, dumped and covered with soil, said Chairman Manoj Sanjaya but now systems are in place to divide the garbage into degradable and non-degradable.There have also been many awareness campaigns among the people, to help sort the garbage, with bins for both types being introduced. Recyclable waste is dealt with in that manner and biodegradable waste turned to compost, Mr. Sanjaya added.
The stories of Weligama and Negombo were similar.
Meanwhile, the Dehiwala-Mount Lavinia Municipal Council, which is not part of the Pilisaru Project sends trucks to collect garbage from main roads daily while each house is visited twice a week, says Mayor Sunethra Ranasinghe.
The 150 tons collected daily, are dumped on a private land in Moratuwa which is paid for by the council.
There have been complaints before from the people living around the dumping site so an agreement was made in court to cover the dump with sand. Small projects are being implemented to sort out the plastic and glass, e-waste is buried and hospitals have permission to bury their waste, she said.
When asked why the DMMC was not part of the Pilisaru Project, the Mayor said perhaps they've prioritised rural councils. "We have a very large collection and it might be difficult to deal with it all at once."