Tuberculosis may be a curable disease, but it has turned out to be a silent killer in Sri Lanka, claiming more than 300 lives annually, a top health official said.
Dr. Sunil de Alwis, director of the National Programme for TB Control and Chest Diseases, said, the number of cases over the years had shown an increase and they had identified the major causes for its spread.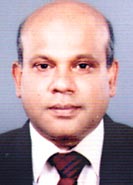 Dr. Sunil de Alwis
Insisting that it was difficult for his unit alone to control the fast spread of the disease, Dr. Alwis called for a concerted action plan with the involvement of local councils, environment and education authorities and the public.
Warning that one person with active TB could infect 10-15 people in a year, the doctor lamented that at present his unit did not get the necessary support from other key players to check the spread of the disease.
According to the records, 347 people died of TB in 2006 while 205 died in 2007 but last year's death toll was 353. Dr. Alwis said the number of deaths for this year could go up as more cases had been reported this year.
The doctor said he believed one of the reasons for the rise was the increase in the number of people suffering from diabetes and other non-communicable diseases. Such people, especially those who were over 40, were more vulnerable to contract TB because of their weak immune system, he said.
Besides this, the unit has identified several other factors that have contributed to the increase in the number of TB cases. They include lack of proper nutrition, eating fast food, living in an unhealthy environment exposed to dust and smoke, the increasing aging population, smoking, alcohol and drugs.
Houses built with less ventilation and with little room for sunlight to come in were also a major contributory factor, Dr. Alwis said, pointing out that a large number of cases were from the Colombo district.
"It is clear that this disease is reported more in urban and sub-urban areas. Therefore a change in lifestyles is a must," he said. "Any person who has a cough for more than three weeks should undergo a sputum examination, chest x-ray and tuberculin test."
Symptoms of TB of the lungs are cough, weight loss, loss of appetite, fever, night sweats, chest pain and tiredness. Coughing out blood is a symptom in severe cases.
"Most of the cases can be cured in the early stages. It can also be controlled. Patients should take anti-tuberculosis drugs in correct dosage regularly for the prescribed period. If a patient does not take the medicine regularly as prescribed or stops it prematurely, all the bacteria in the lungs will not be killed," Dr. Alwis said.
Tuberculosis spreads through air. Like the common cold and flu, it can also be spread through relatively casual contact. It is only the people suffering from TB of the lungs who can spread the infection.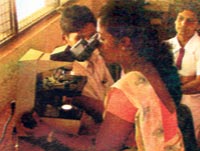 The National Programme's Mobile microscopy service at work
Statistics also show that more men are detected with TB than women. Most of the male patients are from the age group of 45-54 while most of the females are from the age group of 15-24.
An official of the Ceylon National Association for the Prevention of Tuberculosis, said they had decided to strengthen their awareness programmes to control the spread of the disease.
He identified the lack of funds to carry out awareness programmes in outstations as one of the major obstacles in successfully combating the disease.
According to world statistics, some 3 million people die fr
m TB annually and 1.7 billion people, one third of the world's population, are now infected with TB. Fifteen TB patients die every second. Asian countries with large cities are having high rates of TB infection.