A 44-year-old mother of two who is said to have worked untiringly for the United People's Freedom Alliance in the run-up to the 2009 Provincial Council elections in Nuwara Eliya district held early this year is today a destitute sans anybody's help.
She is Vinitha Jayamali who was reported to have been keen to attend the propaganda meeting held on February 1 at Rikillagaskada addressed by President Mahinda Rajapaksa in support of the UPFA candidates. At Nuwara Eliya she met with an accident opposite the Nuwara Eliya post office and was severely injured.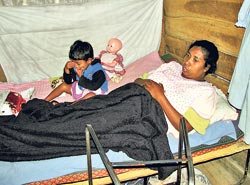 Vinitha with her daughter at home
She was accidentally crushed when she was wedged between a bus and a parapet wall suffering several fractures. She was admitted to the Peradeniya hospital. She was then transferred to the Nuwara Eliya hospital on the following day as the Peradeniya hospital beds were required for soldiers injured in the battlefront.
On March 3 her husband D M Ranbanda took her to Dr. M P Jayasekera, a native physician at Hasalaka. She was treated there till July 5 with her husband remaining at her bedside. Her children, a student in Grade 10 and a two-year-old daughter were kept with relatives.
Now Vinitha has partially recovered and is back in her small home in Mihindupura, Nuwara Eliya.
It is said it would take another five months for her to recover fully. Her husband does not have permanent employment but does odd jobs during which time his son has to look after his mother and his little sister.
"I studied at the school in Dambagolla in Walapone and was successful in the GCE O/L exam. I did not find a job. I got married 15 years ago. My husband and I came to reside in Mihindupura and earned a living by selling vegetables grown in our garden. I joined the local women's federation whose president had decided to contest the provincial council elections. I campaigned for her. It was when I was coming to attend an election meeting that I met with the accident," she said.
Ranbanda
"The driver of the bus involved in the accident offered me Rs.5000 promising to help till I recovered. He even promised to get my family a house but did not come thereafter. Several politicians too promised me help during the election campaign but so far no one even visited me," Vinitha said. She lamented that it was her fate. She had reportedly sent a petition to the President from her sick bed in Hasalaka on May 27 to which no reply has been received yet.
She had written to the transport manager of the relevant bus depot to no avail. She regrets that she could not write to the Transport Minister about her plight.
She said she would be grateful to anyone who would offer her help.