More than 200 transfers to top universities in the world and over 70 students graduate in Sri Lanka.
On July 22 2009, 71 outstanding ANC students received their international Degrees from Missouri University of Science and Technology and Northwood University USA at the Annual ANC Awards Night and over 200 transfers to top universities in the US, UK, Australia and Malaysia.

The event was organized on a grand scale at the Hilton Colombo followed by a glamorous Fashion Show, Glitterati 2009. ANC Education Holdings, the No. 1 provider of private tertiary education in Sri Lanka, offers both local and international students American, Australian and British undergraduate programmes leading to easier transfers to top universities in the world and international degree completion options in Sri Lanka. ANC is approved by BOI Sri Lanka and maintains high quality university standards in all aspects of education.

Welcoming a large group of delegates from, Northwood University, Pattern University, Monash University, Missouri S & T University and NCUK representing over 11 prestigious UK universities Mr. Jagath Alwis, Chairman ANC Education Holdings said that "ANC Education Holdings has set new standards to the high quality education in South Asia. ANC will continue to produce high achievers in the US, UK, Australia and Malaysia bringing recognition to Sri Lanka. There is a big demand among Sri Lankan students to study in high quality foreign universities. However, we found the resources available to get there were not adequate. We have provided the best solution for South Asian students to fill this void through ANC."

. "The knowledge and experience you acquired through your accredited American education is a big opportunity for you to thrive in world's No. 1 destination for international students. The American education system and all the opportunities the US has to offer today's international student will help you to contribute more to the development of Sri Lanka much earlier in your careers" said; Dr. Gary Moncher, President Pattern University USA presenting the awards to the high achievers of the American University Transfer Program. Dr. Lance Lewis, Dean International Programs- Northwood University presented High Achievers Awards to the Northwood Program students at ANC.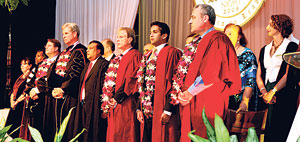 ANC Faculty and partner University Chancellors
Ms Kim Styles, Deputy Director, Monash College Australia said Monash University being one of the top 50 ranked universities in the world believes in quality education. We are happy to see that ANC is keeping up to its standards and producing quality students. We congratulate Monash College students who have done extremely well in the exams.

In her address, Ms.Ursula Henry, Director of International Recruitment and Relations, University of Liverpool commended ANC students on their achievements, which presents Sri Lankan students with the opportunity of completing their tertiary education in UK, one of the world's most prestigious and successful societies. "By offering such opportunities of higher education abroad, ANC is equipping Sri Lankan students to achieve their potential at UK's finest universities through Northern Consortium UK. It is through high quality education that you can make your people all they can be," Ms. Henry added. Whilst presenting graduation certificates to over 70 graduates Dr. Keith Pretty - President and CEO Northwood University said that graduation ceremony is a just reward for the hard work and enthusiasm they have consistently applied to their studies and the passion they have demonstrated in the classroom.
Glitterati Fashion Show
"ANC's dedication to produce leaders through high quality foreign education at an affordable price has fulfilled dreams of a lot of students and parents today. Stability and the long term approach of ANC and the commitment of its students, faculty, staff and partner universities distinguish us from other education providers. During the seven years that we have worked together, ANC has always made every effort to provide its students with a rigorous, globally recognised education." Dr. Punarjeewa Karunanayaka CEO/ Executive Director of ANC Education Holdings said in his thanking speech.

Education at ANC doesn't end with the classroom, a textbook, and an exam. It is alive and vibrant. Showcasing the talents of ANC students, the fashion show took off the grounds for the fourth consecutive year after the Awards Night. The fashion show was another refreshing experience this year serving a worthy cause of supporting the welfare of the armed forces of Sri Lanka. Choreographed by Brian Kerkovan, a renowned name in fashion industry, Gliteratti was a platform to display the creativity, innovation and flair for fashion of ANC students.