On July 15 2009 Wesley College Commerce Union concluded the 'inter school quiz competition 2009' which was held in the College main hall.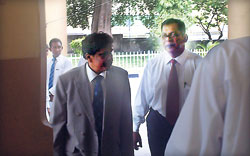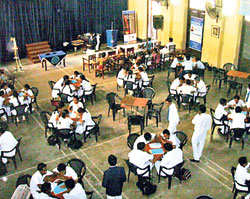 The event started off at 2.30pm as scheduled, with the traditional lighting of the oil lamp. It was graced by Mr. Rushan Hewawasam as the Chief Guest. He was Commerce Union President and a senior prefect of Wesley College. Over 15 local and international schools participated at this event and competed against each other for the Championship Trophy. The competition comprised 2 rounds, and in the first round the participant school teams were given three separate question papers as Business studies, Economics, Accounting and General Knowledge. After the first round an interval session was given, where refreshments were served and a song item performed by two talented Commerce students.

The results of the first round were then announced and the two finalists, Gothami Balika Vidyalaya and Musaeus College came up on stage to compete. But an unexpected move was made for the 2 finalists by the organizing committee in the final round. First they had to individually answer a question and then a question was given to each team to be worked out. To close the round one common question was asked from the two teams. The team which presented the correct answer first would get the respective mark. At the conclusion of the final round the audience were on the edge of their seats eager to discover the winner. Since both finalists made it a tough competition the audience were confused as to who would be the champions yet.

Participation certificates were distributed by the Commerce Union teacher-in-charge Mr. Dilshan Perera and Commerce section sectional head Mr. Palitha Fernando. It was then time to announce the Runner up and the Champions of the inter school quiz competition 2009. The talented, intelligent girls of Musaeus College became the Runner up and the more competitive Gothami Balika Vidyalaya girls who out smarted the rest became the Champions. To conclude the event the respective trophies were awarded by the Principal of Wesley College Dr. Shanti McLelland and the Chief Guest Mr. Rushan Hewawasam.

The participants highly appreciated and made remarkable comments on the quiz competition. "It was an evening enjoyed and educated" was a comment made by a participant to show appreciation. The committee thanked the Principal for giving them the much needed support and confidence. They also mentioned the Vice principal who, although he couldn't attend the event gave his support from the beginning. In the end all credit goes to each and every member of the Commerce Union for making this event a great success and portraying the true Wesleyan talent.