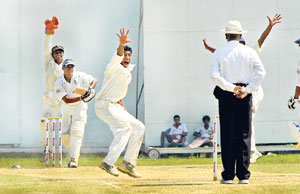 The end of a great inning. ….. Royal's Kithruwan Withanage asks the question from the umpire while the gallant Faahim Saleem looks on. Saleem was trapped leg before for 165 by Withanage, thus ending an innings that many would remember for generations to come. (Pic by Saman Kariyawasam)
The true Thomian grit prevailed at the Sinhalese Sports Club Grounds yesterday, as the lads from Mt. Lavinia led by that miracle worker Faahim Saleem halted the Royal victory charge with a clever display of patience at the crease.

After the Thomians had made a huge 411 all out in their second innings leaving Royal a target of 198 runs to win in 21 overs the Royalists made 42 runs for loss of three wickets in 7.1 overs of batting.
The Thomians after crashing for a paltry 99 runs in the first innings and with the Reid Avenue lads sensing to avenge their last innings defeat, the Thomians heads were down by lunch on second day, with the score card reading a bleak 39 for 2. However at one end Faahim who has made a habit of taking charge of the Thomian batting this season stood tall. At the same time he was still smarting from that 'duck' that he was gifted by Abeykoon in the first innings.

Then he found solace at the other end in his skipper Raveenthararaja Nirrushan who was also willing to take the fight back into the Royal camp. By the end of the second day both batsmen had completed their centuries, but, still a Royal victory was on the cards. At the same time for the undefeated Royalists, who had nine outright wins against their name this season, this was a mere exercise of getting into double figures. The Thomians ended the second day at 225 for 2. There were reminiscences of the Halangoda-Richards fight back in the centenary match.
The Royalists who had toiled hard and had gone wicketless for a major portion of the second day got the break that they were looking for, when skipper Nirrushan was held in the slips by Sahan Hettiaratchi off skipper Yasitha Abeykoon for the addition of only one run to his overnight score. The pair had added a gallant 209 runs for third wicket and also occupied the crease for a precious 317 minutes.

With the departure of Nirrushan the Royal eyes lit up for a while, but, that joy too was short lived. Chamod Pathirana joined Saleem and held back the Royalists for another eighty minutes while adding another 53 runs for the 4th wicket. Then there were some anxious moments for the Thomians when Chamal Fonseka and Chulaka Kumarasinghe fell at the score of 285 with only seventy one runs ahead with ample time to spare. At that moment the Thomians stumper Sachin Peiris joined Saleem to frustrate the Royal camp further.

Then with the score on 342 off spinner Kithruwan Withanage ended Saleem's 545 minute resistance when he trapped the batsman in front when his personal score was on 165. Thus, one of the greatest innings that was on show at a Royal-Thomian encounter came to an end. Faahim Saleem faced 425 balls during that inning hitting 15 boundaries. After the departure of Saleem, Peiris batted stoutly to post his half century and also see them passing the 400 run mark in consecutive matches.
Holiday on Monday for Thomians

As an appreciation of their brave show at the Sinhalese Sports Club grounds yesterday, the Thomian board of management and warden David Ponniah have decided to declare Monday (March 16) as a school holiday for S. Thomas'.
Thomian Hero Faahim Saleem's interview

I had confidence in my partners - Saleem
By M. Shamil Amit
Yesterday's hero Faahim Saleem who scored an unforgettable knock of 165 runs in 545 minutes of batting to lead the Thomians to an honourable draw in their in their 130th encounter was a lad overjoyed by late last evening. Speaking exclusively to The Sunday Times Faahim said "I was full of nerves. I was also praying to God to help me do better this time as we were facing an innings defeat. In the first innings I got a duck, so I was determined to do better this time, but soon I saw that we were 21 for 2 once again.

"In that situation, skipper Nirrushan walked on to the field. While walking to the crease we discussed that we would stick to our basics and try not to lose too many wickets. Our plan came right as we were still there at the end of the day with centuries against our names."

Faahim continued "Ironically early in the day we lost the wicket of Nirrushan, but by that time I was confidant that I could bat along with the others and more over I had my confidence in them. I knew that our batsmen could not fail twice. True enough I lost two partners at 285, that is cricket, but once young Sachin came in and was batting well I knew that we can hold it on and finally we did it.

"Now the whole team is happy as one and we now looking forward to our limited overs game next weekend".