Turf pitches are often the discussed topic, but often after a few weeks of a game the topic is put away until the game. There has been much development, progress in the areas of umpiring and coaching in all major playing nations, but not so with preparing pitches.

Australia and England are the most advanced in this area. This is mainly because the subject which covers Golf courses, Horse racing tracks, bowling green, soccer, rugby grounds, lawn tennis, grass athletics tracks, park and gardens also cover cricket grounds and pitches. It therefore provides groundsmen and curators the knowledge and experience to develop in their profession. The equipment and facilities they have at their disposal is also top of the range.

South Africa and New Zealand are not too far behind. The rest go through the motions. This is not to say that those involved do not put in an effort, in the other countries. They are not in a position to reach the highest quality. Outfields around the world are now well manicured and are of good to excellent quality. Irrigation systems and potent fertilizers, coupled with precision cutting mowers, lush yet fast outfields could be produced.

It is not so with the pitches. A pitch will vary somewhat from ground to ground in one are of a country and greatly from country to country depending on weather and soil conditions. Then, the preparation also has much to do with the final product. In OD's and T20 games, the motive is to always prepare surfaces to assist batsmen and to see plenty of runs being scored, providing entertainment for spectators. With test cricket the thinking changes completely.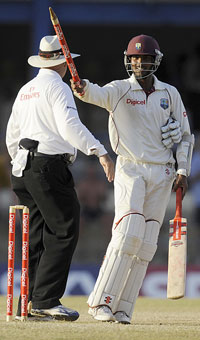 Denesh Ramdin grabs a stump and celebrates West Indies' series win, West Indies v England, 5th Test, Trinidad, March 10, 2009. -- AFP

Often the phrase "home advantage" is tossed around. Test cricket is the ultimate test of the skills in the game. For a game to last for five days or most part of it, the men who prepare a test match must have a deep knowledge and experience of the profession.

An ideal pitch for a long game is one that assists the quick bowlers in the early stages where an absorbing duel between the top order batsmen and the quicks could be witnessed. Spinners play a role of containing runs and bowling to a specific plan. The batsmen should dominate during the mid-part of the game from midway on day two, to midway on day four and finally a situation where bowlers dominate batsmen and they have to battle for survival.

It is rarely that such a pitch could e prepared. There are many instances when there are close finishes because the pitch permitted batsmen and bowlers assistance to prove their skills. When one team is much stronger than the other then also a result is achieved and often quite easily. At times pitches seam around or spin in excess and the contest becomes one sided. What remains a major issue is that a result cannot be achieved inside five days. This happens all over the world time and time again bowlers toil and toil for five days for little returns.

The recently concluded series in the West Indies produced such pitches for the third, fourth and fifth tests. The Windies won the first game when England collapsed for 51 runs in their second innings! After a few overs the next was called off, with the bowlers run ups being unsuitable. An additional game was arranged in the same island. It went down to the wire. The home team held on grimly on the final day. The tail enders defied the Englishmen who missed the opportunity to draw level. For the next two games the pitches favoured the batsmen wholly. In the final game seven centuries were scored by both teams. Both games were drawn. West Indies made the most of the "home advantage!"

The first test between Sri Lanka and Pakistan played in Karachi a few weeks ago, produced an even better opportunity for the batsmen. After two declarations, the second innings commenced during the second session of day five. The pitch may not have produced a result even after eight days!

These games are not a good advertisement for test cricket. True batting records tumble and milestones are passed. That is not a true reflection of what must be. There must be an even contest between bat and ball and a result at the end of five days. Perhaps it is time the ICC laid down some guidelines. A study by experts on pitch preparation should formulate a system which can be accepted globally. Even look beyond that. As much as there are Match Referees, why not Pitch Referees! Not just to judge pitches but to be responsible for its preparation. Every test match wherever its played in the world must be attractive.

= Ranil Abeynaike is a former Sri Lanka cricketer and one-time curator of SSC