'Wild Asia', one of the popular TV programmes for the whole family has completed 100 episodes on Rupavahini.
This well-known programme produced by Pathmalata Abeysinghe, an experienced TV producer is telecast every Saturday from 6.30 pm to 7 pm and won plaudits and praise by the audience both old and young.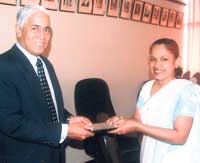 Programme Director Ms. Abeysinghe handing over a copy of CD to the Chief Justice Sarath N. Silva
In daring drives through some of the rainforests, sanctuaries and national parks in Sri Lanka the programmes makes the public aware of the rare animal resources that our little island possesses and the importance of protecting them.
Focusing not only on rare animals in isolated forests, 'Wild Asia' also hints at the importance of protecting all types of animals that live unnoticed among the animals that we come across.
"Showing affection not only to cats and dogs that live with us but others like butterflies, squirrels and cuckoos are part of the environment we have to protect," Producer Ms. Abeysinghe said speaking to the TV Times at the telecast of the hundredth episode.
So far the programme has featured internationally well known national parks Sinharaja, Udawalawe, Yala and Wasgamuwa, Bundala and many other sites of attraction like Horton Plains. Wild Asia has also shown underwater programme done in Hikkaduwa, Rumassala and Batticaloa.
At this important juncture the producer expressed her gratitude to the National Lotteries Board and its former chairmen Upali Liyanage, Vaas Gunawardena and the present chairman Chaminda Athuluwage for their continued support.