For those of you who are country music fans, here is good news….The ever popular 'Country Roads' concert, that much looked-forward-to annual show is around the corner. What's more, it will be Sri Lanka's first ever Country-western and folk themed outdoor acoustic concert.
This year, organizers of the concert, the Country Music Foundation (CMF) have decided to hold the event in the form of an open air concert amidst a picnic setting. Country Roads favourites such as British singer Astrid Brook, Mariazelle, Cosmic Rays, Anno Domini and the Country Revival Band as well as 2009 additions Flame and Thilan will serve up acoustic versions of country western and folk classics.
This family fun fiesta- dubbed the Cowboy Festival and Fair will take place on Sunday March 29 at the Dutch Burgher Union (DBU) from 4.30 p.m. onwards. With a range of mouthwatering food outlets including BBQ and beverage stalls, competitions and horses, the music played at the concert will blend with the ambience and food.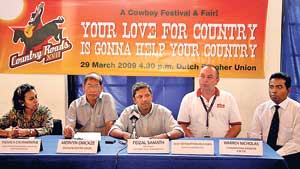 CMF president Feizal Samath addressing a news conference
Speaking at a news briefing, President of the Country Music Foundation Feizal Samath said that the Country Roads concert is probably the longest running concert in Asia.
"We try to create awareness on children's needs. Right now there is a desperate need to help the children in conflict areas," Feizal said adding that the proceeds of the concert will be utilized for the welfare of the displaced children in conflict areas through Save the Children with which the Country Music Foundation had been working closely these past few years.
The CMF project takes off after the concert and would finish by the time of the next concert so that the public is aware of the work done with the funds collected from the show.
Elaborating more on the quantum of work done, Head of Media and Communications, Save the Children Menaca Calyanaratne said that they have been able to help school drop- outs, set up libraries and fulfil their needs of obtaining Birth/Marriage Certificates etc.
Education of displaced children in conflict areas should be given as much attention as other needs such as shelter and health, she said. The funds raised from this concert will be used for the education needs of the children in conflict areas, particularly to set up temporary learning shelters, she added.
Tickets for the show priced at Rs 300 will be available at the gate on March 29 and prior to that at selected Cargills Food City outlets. The dress code for this fun-filled event will be 'Jeans and T-shirts' while cowboy hats are optional. For more information contact Dhammika on 2304179.
Astrid: going down her road to success
Singer-songwriter Astrid Brook is an elegant solo performer with a warm singing voice which lends itself perfectly to her gentle folk style.
Astrid has played hundreds of gigs at venues in the UK and abroad and continues to receive enthusiastic reviews from her audiences. This March she returns to Sri Lanka for the third time to perform at 'Country Roads'.
Born to a Malaysian mother and an English father who was a soldier in the army, Astrid grew up on Salisbury Plain in South England, in a town close to Stonehenge. Her mother was a DJ whilst Astrid was growing up in the 1970's, so she was submerged in pop music and started songwriting at the age of 8. She dabbled in music throughout her teens, but never really took it seriously.
During a 10 year break from music, Astrid completed a degree, embarked on a business career in London and also did some travelling in between jobs. It was during one of these trips abroad that she asked herself what she really wanted to do with her life. Realising that music was still in her blood, she stepped back on to her musical path at the age of 27 and started to perform at open mic nights in the city. Since then she has built up her musical experience and also donates her musical services to charitable causes abroad.
Astrid released her debut CD, Wild River at the end of last year. Produced by Rick Parkhouse (Red Triangle Productions), this simple acoustic album reflects Astrid's live performances and effectively captures the purity and flow of her voice and songs.