From Teiresias the blind prophet to Oliver Twist and Annie, Thomian thespians Shanil Wijesinha, Ranshan Gomez and Dathika Wikramanayake have been in many places and in many shoes during their life on stage.
Cover it Please! – the wacky and fast-paced drama that unfolds in a spa, marks their final dramatic escapade on a school level. "It is something of a tradition with the Drama Society to present a comedy every year," says Vinod Senadheera. "Cover it Please! however, is also a comedy I decided to direct, with these three particular actors in mind. Since these are their last few weeks in school, it seemed right to produce a comedy with the three of them acting in it."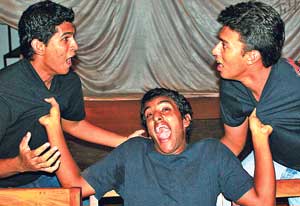 Shanil Wijesinha, Ranshan Gomez and Dathika Wikramanayake have all had many years of experience of drama, be it acting or producing. "The great thing about working with these guys is the fact that I have very little to do in terms of direction. They have done many shows before, and their experience helps them give their own interpretations to the roles they have to play," explains Vinod. He also recalled what makes his work with them special - the many years of good memories coupled with craziness, occasional hysteria, good natured teasing, drama queen tendencies and even the occasional diplomacy!
Meeting with the trio was a confirmation of Vinod's recollections – the three lead actors of Cover it Please! are without doubt every bit as crazy as their roles on stage promise to be.
Shanil, the resident diplomat and President of the Drama Society (2008) proclaims himself to be a silent leader much to the mirth of his two friends. Amidst all the jokes and teasing he claims to have been privy to, Shanil has had not only a long career in drama but has also played diverse roles –ww from Mrs. Bedwin in Oliver Twist, to Teiresias in Antigone and Aubrey Allington in Tons of Money(2007). Described by Ranshan and Dathika as the drama queen par excellence of the group, Shanil's greatest joy in acting lies in the license to be someone else. "Acting is something that has always been very special to me, and in addition to my ambition to study law when I leave school, I hope to continue acting whenever I get the opportunity to do so."
Ranshan first set foot on stage at an early age. "My first big role was Oliver Twist," he recalls. "That role is what really got me interested in acting and the support I got from Vinod and the senior cast inspired me a great deal. Playing the role of Peter Pevensie in The Lion, the Witch and the Wardrobe (2006), Ranshan is also an avid basketball player who describes himself as "basically a crazy guy." "We are all really grateful to be given this opportunity to act in Cover it Please!," he adds. "It has made our last few weeks at S. Thomas' all the more special and memorable."
Dathika first dabbled in the production aspect of drama. "When I took on drama, it was as a break from sports, but the magic of it drew me into acting as well." Having taken on the role of James Chesterman in Tons of Money, Dathika now takes on his first female role which he describes as "a challenging experience which is also a lot of fun!"
What is Colombo to expect of Cover it Please! ? Resolving themselves to be almost completely mysterious about their new comedy, the Thomians will not tell, leaving it up to the audience to find out for themselves on the March 28 and 29 at the Lionel Wendt at 7.30pm. The electronic media sponsor for the performance is ArtTV, while the print media sponsor is The Sunday Times. Tickets priced Rs. 500, 400 and 300 will be available at the College office.