The Revelations Academy of Performing Arts and Creativity, opened their doors to anyone interested in the performing arts around two years ago.
Starting off with practices on Sundays at the Joyce Goonesekera Montessori down Bullers Road, they have now progressed towards having their maiden concert titled Road to Fame which will showcase their talent. Consisting of students between four years and 50 years, and from an initial group of five, the Academy has now grown to 64 members!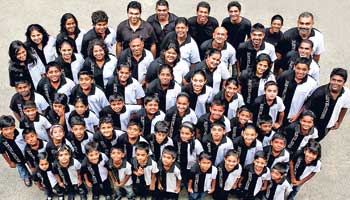 The programme will consist of a performance by The Revelations as well as an adaptation of a well known children's musical. Upon meeting a few of the kids, Keshini Nanayakkara (14), Kevin Fernando (13) Yadhourwetha Ponnasamy (13) , Roshana Tissaaratchy (12), Eden Daniel (12), Devishka de Silva (11), Joshua Goonetileke (11) Kendrick Fernando (8) and Migara Gunawansha (6) – they all voiced that "it feels great to be part of the Academy, it's a lot of fun and it gives us the chance to meet a lot of people."
"The play is coming together," said Krishan Jayaratnam who is doing the directing, adding that it's been quite challenging as the kids are between 4 and 15 years. "But it's been absolutely amazing because I've never done something like this before." Most of the kids have had no background in theatre and have a long way to go but are certainly learning along the way, and he stressed on the fact that there are some very talented actors in this bunch.
The adults of the Academy will then go on to perform songs from various genres – a mixture of pop and jazz, which will include an ABBA medley as well as songs from popular musicals like Grease and Fame. They will also perform songs by Ray Charles and George Harrison as well as Doris Day's "A Sentimental Journey."
"I've liked music from the time I was in school and I am currently a soprano with the group," said Onalee Perera , who has been with the Academy for around a year. "The exposure and the experience The Revelations have had, help us," she and Ally said, speaking on behalf of the other adults.
"This first performance is coming across nicely," said Sanjeev adding, "our kids and wives are also involved and everyone is treated in the same way, creating a big warm, happy family atmosphere," said Sanjeev.
Anasu Subasinghe who will be handling the choreography for the show says that most of the children have not been on stage before, therefore giving her a wide age group to work with, in terms of the adults. Ishan shared Anasu's sentiments, adding that getting them to shift their legs and dance was tough so breaking that wasn't easy," but says "It should come out well!"
Art is also part of the Academy and will be featured at the concert. "They develop their own talents and are not compelled to do anything," Thelma Jayaratnam, the art teacher, said.
"When we started, some of the kids couldn't pitch properly and as a teacher it is satisfying and rewarding to see how they have progressed," said Srimanthaka, adding that the show will definitely be something to look forward to, "It will be entertainment - guaranteed!"
The Road To Fame will go on boards at the Lionel Wendt Theatre on March 25, 2009 at 7pm. The box plan is now open at the Wendt.
The media sponsors are YES FM, MTV, The Daily Mirror and The Sunday Times.