Musician Merril Fernando, formerly of the "Amigos Romanticas", will release his first CD with a collection of most popular hits of the 1970s on March 15 under the distinguished patronage of Dr. Vijaya Corea.
This CD will feature many of his previous tracks which were most popular during the 70's — considered the golden era of quality music and song.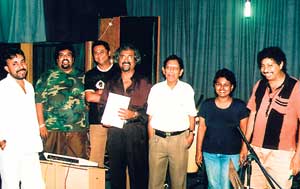 Merril Fernando flanked by musicians at Mahee Digital Recording Studio
A former AGM of the People's Bank, Merril first started his musical career with the famous Neville Fernando of the "Los Cabelleros" along with Bernadine Fernando when they formed the "Fernando Trio" way back in the 1960's. While Neville went his own way with the "Cabelleros", Merril, Bernadine along with others formed the "Amigos Romanticas" singing Sinhala originals and also specializing in Paraguan — style Spanish hits. With the abundance of talent available in the band, it is no wonder that the "Amigos Romanticas" graduated to be placed as 'A' grade performers by the SLBC during that period the group's harmony singing was at its best.
Merril's CD will comprise 11 lilting tracks, including "Hiri Poda Vessa", "Sudu Pata Gawme", "Nadee Theray", "Bingudal Kalambi", "Sandun Keten", "Pulun Wala", "Nethu Sangalin", "Unsathu Landak", along with "Sangawa Sithuwili" — performed as a duet with youthful and highly talented songstress Anuradha Mendis, the incumbent secretary of the Moratuwa Arts Forum.
The musical score for the songs were handled by Vajira D. Ratnayake, the well known music director cum multi-instrumentalist, ably supported by musicians Sarath De Aiwis and Mahesh Silva (on keyboards), Hemapala Perera and Sarath Fernando (on English Mandolin and lead guitar respectively), Chanaka Senadeera (on guitar), Niranjan De Aiwis and Priyakumudu Medawatta (on octopad and drums), Sangeeth Wickramasinghe (on bass guitar), Nihal Kalubowila (on tabla) with Vajira himself performing on saxophone. The original music for these tracks were composed by the late Stanley Peiris and Jayantha Fernando.