Director Mario Jayatunga after a long lay off has returned to filmmaking with 'Kupadia' a film based on a true story.
Mario who had most of his earlier films based on true stories said what made his depict it on the silver screen was the fact that the story was about a husband and a wife who are desperate to have a child.
The director also this time around has repeated his practice of introducing newcomers through his direction and two youngsters Ran Ruwan and Sanju Samarasinghe will mark their debut appearance on the silver screen.
"For the development and for the future of cinema we need fresh blood and new talent. I have made it a point to introduce at least one new face in all my films," Mario said referring to Anusha Sonali in 'Nidi Yahana Gini Gani'; Suresh Gamage in 'Salupata Ahasata', Gangu Roshana and Rizwan Fa in 'Samantha'.
The film also stars veteran and talented actors including Jeewan Kumaratunga, Anoma Jinadari, Anusha Sonali, Priyantha Wijesone, Suri Ilangakone and Samanthi Lanerolle.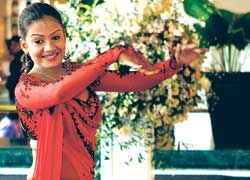 New actress Soory Ilangakone in a dance scene
This will be a good breakthrough for Jeewan and Anoma two talented artistes in cinema.
When asked about the quite unusual title 'Kupadia' and for an equivalent English title Mario said that he could not find a satisfactory English translation even with the aid of Malalasekara's popular dictionary. "However the story line has a connection to the title," he said.
A production of Supreme Films, Nimal Nakandala is to handle the camera, art direction by Nayana Hasantha, and make up by Dilruk Wijesekera.
Musical score by Suneth Kelum, to the lyrics of Nilar M. Cassim and Mahinda K. Premasiri, Samitha Mudunkotuwa and Chandani Hettiarachchi are to render their voices.