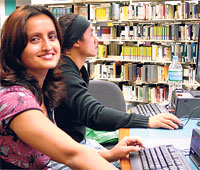 Creative graphic designing in just one month @ Flex Advertising Institute. 100% Guarantee. Flex Advertising Institute, a subsidiary of Flex Graphics is the only Institute in Sri Lanka which provides Courses in Creative Graphic Designing within one month time.
Lectures and online classes for the first batch students have already been commenced.
School leavers, junior executive in the advertising and marketing field are being trained well in Graphic Designing in a creative way to meet the challenges in the modern advertising industry.
Flex consists of female and male talented experts in creative Graphic Designing. Individual and special attention is given on each student unlike other institutions. Specially female lectureres are guiding and instructing female students sharing their knowledge to create new generation in the advertising field.
Flex advertising institute assures 100% success and satisfaction in your studies by providing experience and creative knowledge in the path of creative advertisement.Gain the true experience in creative Graphic Designing by joining @ Flex advertising Institute.
For more information call - 0777-761346, 0777-555026