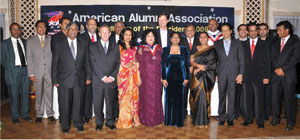 Board Members of the American Alumni Association 2009
Excerpt from the speech made by President AAA at the Felicitation Dinner 6th February 2009.
Good evening everyone, At the very outset I would like to welcome our Chief Guest this evening His Excellency Robert O. Blake Jr., the Ambassador of the United States of America who is also the patron of the American Alumni Association.
In addition I would also like to welcome our Special Guest Mr. James Moore, the Deputy Ambassador of the United States, the members of the American Alumni Association, all our friends, well wishers and family members who are here today, making this day a more meaningful one for me and my board members.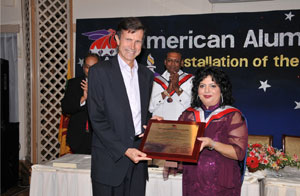 Giving Ambassador Robert O. Blake Jr., a replica of the AAA Charter by Mrs. Sherryn Yaseen Mangalagama the President of AAA 2009
I would also like to take this opportunity to thank our Founder President Janaka Edirisinghe for taking the initiative to form the AAA 21 years ago with his team of founding members. His enthusiasm and drive are legendary and we have all benefited and learnt from his vast experience.
I also thank the immediate past president Kosala Wickremanayake and the previous board and the organizers of the Dance Committee for an excellent job done last year. My dear friends, the AAA is primarily an association of the alumni of American universities and colleges to meet together and forge business relationships and friendships because of the common bond we share - that of an American education and an American experience.
I am sure you would agree that your stay in the United States and the unparalleled education you received there, along with the exposure to a socially stimulating environment has enhanced your understanding, and your appreciation, of American society. The valuable experience you have gained has prepared you to deal with challenges in your professional life and has probably changed your mindset and maybe even your whole life. Here I must admit that I am who I am because of the education I received in America and I am very grateful to America for that.
We were fortunate to be able to go to America and obtain American degrees through scholarship awards or because our parents were able to afford it. However, there are so many students here in Sri Lanka who are really deserving of going to USA, and who would like to, but are not able to do so, because they are either not proficient enough in English or because they cannot afford it.
Let me thank our Chief Guest Ambassador Blake and Special Invitee Deputy Ambassador Moore for taking time off their busy schedules to honor this occasion with their presence. I truly look forward to serving as the President of the AAA in the year 2009 and I promise to make this year as fun-filled and pleasurable as possible for all members and their families and I am also hoping together with my board members to make the world a better place through education, lighting the way for many young students who in turn will do the same for students of future generations.