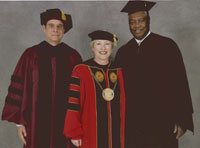 Vice Provost Mitch Leventhal with President Nancy Zimpher (newly appointed Chancellor of the State University of New York System) and Oscar Robertson, Olympic Gold Medalist, Basketball Hall of Fame inductee, only player in NBA history to average a triple-double for an entire season and graduate of the University of Cincinnati. Photo taken on the occasion of Robertson's being awarded an Honorary Doctorate of Human Letters from the University of Cincinnati for both his philanthropic & entrepreneurial efforts.
As many of you may have heard, President Nancy Zimpher, UC's 25th president and the author of UC|21, the university's innovative strategic plan, has been picked to be the Chancellor of the State University of New York System. She will be leaving the University of Cincinnati on June 1.
We at UC will miss President Zimpher, but we also realize that the hugh accomplishments which she has led at UC will continue after her departure. The changes President Zimpher brought have absolutely transformed UC into a world-class university in every respect.
The evidence of UC's progress is pervasive and staggering. By multiple measures, the university is considered to be among the top 200 worldwide, out of more than 5,000 ranked - that puts UC in the top 4% worldwide. As pointed out in the Cincinnati Enquirer on February 11, 2009, "Under her watch, the university's graduation rate is up 7 percent, research funding has never been higher, the school's number of National Merit Scholars has increased from 53 to 146 and enrollment is up almost 10 percent. The campus has never looked better, or been more attractive to bright kids."
These achievements were not done by President Zimpher alone. They were accomplished by all of us, under her leadership. UC today has never been stronger, and the commitment to continue on the path set is strong. Within a day of the announcement of her selection, the university ratified permanent budgets for UC|21, including that of UC International.
Zimpher's a tough act to follow at UC Unfortunately, State University of New York (SUNY) officials have made a wise move by choosing University of Cincinnati President Nancy Zimpher to become chancellor of New York's 64-campus, 427,000-student system. We say "unfortunately," because Zimpher's move will be a tremendous loss not only for UC, but for our community at large. She will be a very tough act to follow.
Zimpher told the New York Times late Monday that she has accepted the position; SUNY's full board approved her appointment Tuesday. Since she took charge in October 2003 at UC, the university has made positive strides in several key areas. She has raised UC's profile nationally and has brought it a new level of prestige. UC has become known nationally as a major research university under her watch, and admissions and academic standards have been raised.
While recent freshmen classes have grown to be the largest in history, they also have been the highest-scoring, most academically prepared. UC board president Buck Niehoff recently told the Enquirer that while the board had long debated whether UC's primary mission should be as an "access" school or as one that demands academic excellence, "Nancy was the first one to come along and say, 'Let's be both.' " Zimpher has grappled with financial problems that were not of her making, but the result of years of overspending and lax oversight. She has promoted a culture of accountability among academic departments, and put a team in place to better manage the university's $1 billion yearly budget.
"She is digging us out of a mountain of debt," English department chairman Russel Durst told the Times.
The UC 21 academic strategy, devised by Zimpher in a collaborative process that won praise from faculty members and administrators, has emphasized technology and research with a student-centered focus. Whoever replaces Zimpher at UC will have a huge job to tackle. But because of Zimpher's accomplishments during the past few years, that person will be in a better position to succeed.
We are sorry to see Nancy Zimpher leave UC, but we wish her well in her new position.
Cincinnati Enquirer Editorial (February 11, 2009) http://news.cincinnati.com