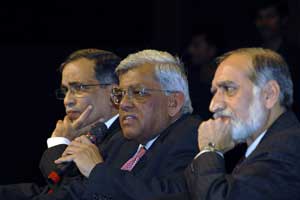 Satyam Computer Services Ltd board members C. Achutan, a former official at the Securities and Exchange Board of India (SEBI), the market regulator, Deepak Parekh, a senior banker and Kiran Karnik, former president of the National Association of Software and Service Companies, a technology lobbying group attend a news conference at the head office of Satyam in the southern Indian city of Hyderabad January 12, 2009. India's embattled Satyam Computer Services needs a new chief executive and chief financial officer to bring normalcy back to the outsourcer hit by a massive accounting fraud, a board member said. REUTERS
MUMBAI, - A special fraud team is to investigate the billion-dollar false accounting scandal at Indian outsourcing giant Satyam Computer Services, the government announced Wednesday.
The Serious Fraud Investigation Office will look into the "entire gamut of the Satyam fraud," a corporate affairs ministry spokesman said.
Its brief includes investigating possible insider trading of shares, he added, as speculation grew that Satyam shares were sold in bulk by institutional investors shortly before news of the fraud emerged.
The corporate scandal is India's biggest in recent years. An investigation by India's Registrar of Companies found massive volumes of stock in the Hyderabad-based firm were sold ahead of founder-chairman B. Ramalinga Raju's dramatic confession last week in a letter to shareholders.
Media reports on Wednesday suggested 24 million shares sold in five transactions between December 23 and the start of the year could come under investigation. Raju admitted his company's accounts had been falsified over a period of several years with cash and assets inflated by over one billion dollars and that the fraud had attained "unmanageable proportions."He was arrested late Friday and is now in jail pending trial, a dramatic fall from grace for a business leader who was one of the pioneers of India's outsourcing boom and a darling of international investment funds.
Meanwhile, the auditors for Satyam, Pricewaterhouse Coopers, said opinions expressed by them on Satyam's accounts may be "inaccurate and unreliable" in view of Raju's admissions. Satyam's new, government-appointed board has vowed to fight to keep the business afloat and secure the future of its 53,000 employees.
On Wednesday, the board asked two global auditing houses KPMG and Deloitte to review the company's finances. "We have decided to appoint Deloitte and KPMG to assist the board in the restatement of financial statements of Satyam," Satyam board member C. Achuthan told the Press Trust of India. Both accounting firms had been asked to "restate" the accounts of India's fourth largest IT company "as quickly as possible", Achuthan said. Pricewaterhouse, which audited Satyam's accounts for eight years, offered in in a letter to the new board to work with the company and "provide assistance to the new board of directors to address any issues that arise in the course of such investigations."It had previously said its audit on Satyam was supported by "appropriate audit evidence" and complied with "applicable standards."
The role of PwC in the fraud has been under scrutiny since the scandal broke. Agencies investigating the fraud conducted raids at the Pricewaterhouse's Hyderabad office Saturday. Pricewaterhouse said it relied on Satyam's information and explanations, along with written representations made to them in making their audits. The New Delhi-based fraud office, set up in 2003 to tackle financial fraud, comprises experts from the capital market, company law and tax sectors.
The president of the Institute of Chartered Accountants of India, Ved Jain, described the Satyam scandal as "serious" and said "strict action will be taken against the auditors if (they are) found guilty" of any negligence. Shares in Satyam fell 4.16 percent or 1.3 rupees to close at 29.95 rupees, amid investor concerns that the company may not find a buyer soon. Shares in the company have plunged 83 percent since the fraud became known.
The stock was battered last week after Raju's admissions. Satyam was removed from the benchmark 30-share Sensex index on Monday.