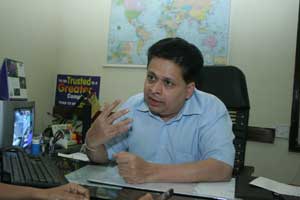 Dr Saman Weerasinghe
Russia, one of the biggest buyers of Sri Lankan tea, is in recession, and the Russian currency is expected to fall further against the US dollar aggravating liquidity problems of Russian businesses. Sri Lanka's tea and tourism sectors are expected to feel Russia's economic woes over the next few months.
In an exclusive interview with The Sunday Times FT, a Sri Lankan businessman with extensive Russian-based operations said the Russian market for tea will not stabilise until mid 2009. "The Russian rouble has already been devalued. But the indications are that the rouble will continue to fall against the dollar until about end-February. The present cash crunch in Russia will also not ease for some time. Russian banks are not giving big credit and interest rates are very high," said Dr Saman Weerasinghe, a businessman based in Russia and involved, among other things, in exporting Ceylon Tea to Russia.
"Given the current situation, the Russian market for tea will not stabilise at least until about June. Sri Lankan tea exporters will also have to put up with further delays in payments for Russian purchases made on credit. At the moment Sri Lankan banks give credit up to 60 days but many Russian companies will not be able to pay in 60 days because the companies and the overall financial system still have a cash shortage," explained Dr Weerasinghe. However, the liquidity shortage in the Russian economy is expected to ease from mid-2009 when a massive US$150 billion stimulus package by the Russian government begins to take effect.
"In addition to large government reserves, Russia has a stabilisation fund of US$150 billion. This will be invested in the economy this year. The results of this cash injection should begin to show from around mid this year," said Dr Weerasinghe, also an Adviser to the Chancellor of the Moscow Medical Academy in which capacity he helps Sri Lankan students studying in Russia.
The downward trend in oil and gas prices is also expected to reverse over the next few weeks when winter energy demand builds up. This will also boost the Russian economy, which is heavily dependent on oil and gas exports.
But, until the Russian economy starts to recover, local tea exporters are cautioned against credit-based business with Russian entities. Companies are urged to take direct control of transactions, instead of going through agents.
"Be careful when dealing in credit because the rouble will continue to depreciate for a few more weeks at least," warns Dr Weerasinghe, adding that, "this means Russian companies will face large losses on the exchange rate and they may not be able to pay Sri Lankan companies the invoiced value,"
"Companies should try to deal directly with the management of the Russian companies and not with agents. Companies should take control directly and not leave things to third parties. In fact, it would be best if they visit Russia and meet their Russian counterparts and build personal relationships," he said.
Sri Lanka's tourism industry is also expected to feel the Russian cash crunch. "In early 2008 Russian tourists were spending around US$ 3,000 per person in Sri Lanka on a tour package. But now, they spend around US$1,000 with the hotel and ticket included. So in addition to a numbers of tourists reducing, spending by tourists will also reduce drastically," said Dr Weerasinghe.
However, Sri Lankan businesses are advised to continue to do business with Russia as the current economic downturn is seen as temporary. "Russia is a large country with huge natural resources including oil and gas. Sri Lankan companies just need to hold on for a few months, because the Russian economy will recover and things will improve," said Dr Weerasinghe.
Russia has the world's largest natural gas reserves, the second largest coal reserves and the eighth largest oil reserves. It is the world's leading natural gas exporter and the second largest oil exporter.