Bharti Airtel Lanka (Airtel), the fifth mobile operator which launched its services on Monday, has offered to share its tower network with the four operators in a bid to reduce the capital cost of the industry, a senior Airtel official said.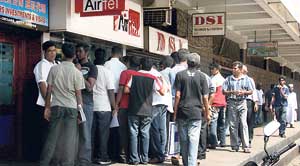 Potential Airtel subscribers queue outside an Airtel office
"We have offered all operators to share our towers," Manoj Kohli, CEO and Joint Managing Director Bharti Airtel Ltd told The Sunday Times FT in an interview. He said the company has requested the Telecommunications Regulatory Commission (TRC) and all other operators to latch onto this concept. "We believe that tower sharing should be seamless. It should be standard because the capital cost of the industry will be reduced," he said.
Mr. Kohli said that some activity to offer tower networks by the four operators to Airtel has started recently. "Initially there was some hesitation, but now there is some activity going on in this regard." Airtel has 500 towers and by 2009 end will double it to 1000. A TRC official however said while initially tower sharing was not introduced to Sri Lanka (by the existing operators), now all four operators currently do it to some extent. Mr. Kohli said already 50 % of the US$ 200 million investment by Airtel has been invested and the balance will be invested till 2012. He said now 60 % of the population is covered with the network and that Airtel targets to reach 80 % by year end.
"We are addressing all 20 million people in the country. We have aggressive rural penetration plans. We are targeting farmers, youth and also Sri Lankan expatriates," he said. He said that Airtel has mobile commerce launch plans for Sri Lankan expatriates who want to transfer money into the country via mobile telephones. The Airtel service has been launched on a state-of-the-art 3.5G network.
Airtel is currently available in five provinces and the company will launch in the North Central and the Uva provinces during the year. The company said the North and the East will also be covered in time to come.
Mr. Kohli said that Airtel has introduced a suite of innovative services and redefined affordability by offering attractive call rates. "What truly sets these tariff plans apart is the simplicity and ease of understanding for the customer, including features such as unconditional free incoming calls," he said adding that Airtel's simple tariffs liberate the customer from the concept of peak and off-peak call rates by offering standard tariffs throughout the day allowing them to 'speak freely'.
For the first time, Sri Lankan mobile customers will be offered uniform call charges to any network," he said. Airtel incoming calls are free while Rs. 2 will be charged for outgoing calls till March 31 and after that it will be Rs.2.50, much lower than the industry average of Rs 5. Short message service charges are Rs 1. The Airtel number prefix is 075. The company also launched a glitzy campaign across media to mark its launch and inaugurated one large Airtel Store on Galle Road in Colombo to supplement its network of 12,000 retail outlets and 23 Airtel stores across the country.