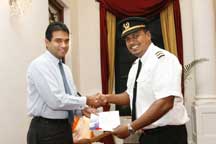 Picture shows -- Head of Flight Operations, Capt Druvi Perera awarding the certificate to Junior First Officer Zayan Salie.
SriLankan Airlines presented 'Wings' to 14 new pilots recently, following their successful completion of the National Carrier's rigorous training programme.
The airline's Cadet Pilot Training Programme has earned a strong reputation for its high standard. The high standards of SriLankan's pilots contributed to the airline receiving the rare honour of being named "World's Most Efficient Small Fleet Operator" of two types of aircraft - A330s and A340s - by Airbus Industrie.