Police who arrested two senior employees of the Sri Jayewardenapura University this week in connection with a degree issuing racket are hunting for the chief suspect behind the scam. The two employees are alleged to have issued fake degree certificates largely to persons from the north and east, police and university officials said yesterday.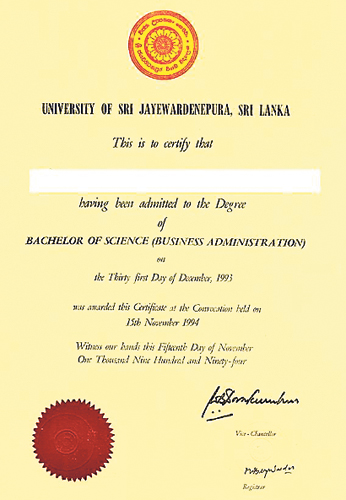 A forged degree certificate
They charged that the duo had also issued forged National Identity Cards, birth certificates and educational documents for a fee and that their handler was a Sri Lankan now in Britain.
The two suspects had carried on their clandestine operation from a university office room for nearly one year before they were nabbed. Their arrest came after a lecturer stumbled upon the suspects' emails on a university computer at the management faculty, according to Vice Chancellor N. L. A. Karunaratne. He said the suspects had failed to log off after viewing their email.
IT experts attached to the university were immediately called in to investigate further and they discovered a large number of fake documents, and most importantly a vital email link to an address in London, the vice chancellor said.
The matter was immediately reported to the police who were able to arrest the suspects when they turned up for work the following day, he said.
The suspects counted nearly 10 years service with the university and therefore they had easy access to the facilities including the computer section used exclusively by the academic staff, Dr. Karunaratne said.
He said the modus operandi of the suspects was simple. "All they have to do was to get an original document from a file and make necessary changes to the name, date etc without altering the genuine signatures of the university authorities. The print out is a perfect original document," Dr. Karunaratne said.
Police investigations have revealed that the suspects had sold a set of fake documents including birth and school leaving certificates, NIC, and a degree certificate for Rs. 50,000. In addition, they had also doctored passports, police said.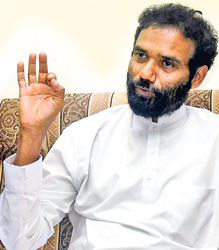 Vice Chancellor N. L. A. Karunaratne
A senior police officer said investigations have now centered on the UK handler. Police have also questioned several persons who are alleged to have bought these documents. However they added that a large number of persons holding these doctored documents are currently out of the country.
Police also confirmed that the two men worked as a team and firmly ruled out any involvement of other members of the university staff. The chief suspect who is in Britain was also a regular gambler and addicted to liquor, police said.
Police, who have traced the local residence of the chief suspect, said he would be arrested if he entered the country. They said the man had visited the country some three months ago and completed work on a two storey luxury residence at Boralesgamuwa.
The Mirihana police are conducting investigations.