The Sri Lanka Foreign Service Officers Association is up in arms against posting of what it says is the alarming number of political appointees to several diplomatic missions traditionally meant for career service officers.
The officers have complained to Foreign Minister Rohitha Bogollagama that 60 per cent of present postings as heads of missions were political appointees leaving only the rest for professional career officers. They have called for this disturbing trend to be arrested immediately.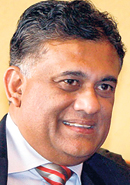 Bogollagama
The earlier practice, a Foreign Ministry source said yesterday, was to appoint only 30 per cent of the officers from outside the Foreign Service. The situation, the source said, has been further compounded by the absence of even a single career Foreign Service officer in some missions. These include our embassies in Russia and South Korea.
All key diplomatic postings among 57 countries (High Commissions, Embassies and Consulates) are now held by political appointees. They include the United States, Russia, Canada, Great Britain, France, Italy and South Korea. "Some non career appointments in the past were made up of eminent persons who brought credit to the country. However some of the appointees now are not familiar with any of the nuances of diplomacy or international relations," a senior Foreign Ministry official said.
The recent political postings disclosed are Newton Gunaratne, former Chairman of Independent Television Network (ITN) as Ambassador to Burma and former Air Force Commander Air Chief Marshal (retd.) Jayalath Weerakkody to Pakistan.
The political appointments have not stopped with heads of mission appointments but have now shifted to those of Consuls General and other diplomatic and non-diplomatic positions as well. While earlier appointments such as those of consuls general were filled through internal transfers by officials of the Foreign Service, almost all are now occupied by political appointees, The Sunday Times learns.
Increasing the concern of the Sri Lanka Foreign Service Officers Association are appointments made to positions other than heads of missions. The latest instance is where breaking all tradition a non-career officer is being appointed as Deputy Permanent Representative to the United Nations in New York for the first time.