After a dispute and consistent bad weather that delayed the Indian aid from reaching the conflict zone in the Wanni, a part of the consignment finally rolled into the area earlier this week under the supervision of the Government and the ICRC.
An ICRC convoy of some 80 trucks carrying the aid for the IDPs caught up in the fighting reached the conflict zone without further incident. The consignment would initially benefit some 40,000 families, ICRC Director Alexsandra Matijevic told The Sunday Times.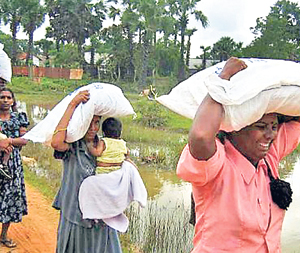 Wanni residents carrying away the food items brought in the ICRC convoy.
The aid - mainly gift packages - was distributed to the beneficiaries under the supervision of the Government Agents and the International Red Cross, Ms. Matijevic said.
She said the consignment taken to the Wanni was approximately 50 per cent of the Indian aid, with the balance to be sent in the next few days.
Meanwhile the World Food Programme has separately sent in more than 4000 tons of food to the Wanni since it began the mercy operation in early November, the Mission's Deputy Director, Ms. Azeb Azrat said.
Another 56 trucks loaded with 600 tons of food and other essential items left Vavuniya for the conflict area this week, she said. She however could not be drawn into comment on whether there was an element of risk that the aid could fall into the wrong hands, only saying that it was reaching the true beneficiaries.
However Government officials involved in the aid program to the Wanni IDPs have repeatedly expressed concern that the LTTE may be forcibly grabbing a large chunk of the food and other items.
The GAs in the area were given strict orders to ensure that the aid reaches only those holding meal tickets and to report back if the LTTE or other elements were interfering with the process.
For its part the Government, on the other hand has also sent in several tons of food and other essential items to the conflict zone since the trucks started moving into the area a month ago.