A tropical cyclone originating in the Bay of Bengal is expected to hit the North and East of the country over the next 24 hours, a Meteorology Department official said.
"On Saturday morning the depression was 400 kilometres east of Batticaloa, in the Bay of Bengal, but by evening it had intensified and moved forward and was 350km away," Meteorological Department deputy director S. R. Jayasekera said. "This is a high-risk situation."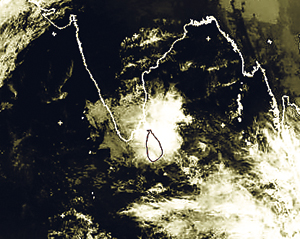 Yesterday's satellite picture of the cyclone. Pic courtesy Met. Dept.
In a "bad weather" advisory issued yesterday, the department said the atmospheric disturbance near Sri Lanka had intensified and that there was a low-pressure area just off the south-east coast of Sri Lanka.
Cyclonic conditions are expected to prevail over the island, with intermittent showers accompanied by strong winds and lightning, especially in the North, North Central and Eastern areas. Showers and thundershowers are expected in other parts of the country.
Mr. Jayasekera said seas would be rough and not favourable for fishing, especially in the sea off the south-east coast.
Meanwhile, Keerthi Ekanayake, National Co-ordinator for the Disaster Management Centre (DMC), said the emergency measures were being taken in vulnerable areas. "We are getting ready for evacuations, and we are instructing residents on what to do if and when the cyclone hits," he said.
Government agents for the Ampara, Trincomalee, Batticaloa and Jaffna districts have been briefed on disaster management measures.