The terrorist attack on Mumbai squelched the last-ditch histrionics of Tamil Nadu racists trying to save the LTTE's defeat. It also drowned the pleading of Prabhakaran as he made a particularly un-heroic speech on his Heroes' Day. Flooded by water his self-styled capital Kilinochchi lay in wait for capture by government troops.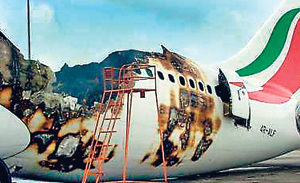 LTTE terror attack on Sri Lanka's civilian airport
The siege of Mumbai, coordinated and ruthless, had LTTE trademarks written all over it — although no direct LTTE hand. We have experienced it for several decades. The World Trade Center, the Katunayake airport, Galadari Hotel, the Dehiwela train, Sri Maha Bodhi, the attack on the oil tanks -- the list goes on. The LTTE and all other Tamil terrorists had been trained in Indian government camps. Cross-border training camps from another source were now haunting the Indian establishment.
NDTV, CNN, BBC and Al Jazeera gave wall-by-wall coverage of the Mumbai attack. Although attacks by the LTTE in Sri Lanka were equally barbaric and done more frequently, we never got that type of international coverage. In those awful times even the local coverage on attacks on us was often spliced-in by comments from the foreign-funded NGO sector that there were reasons for these attacks and that we should go in for a "negotiated settlement".
On the contrary, all Indian politicians, commentators and journalists were wholehearted in their condemnation and asking for a quick response. Those Indian army generals who had been in Sri Lanka as part of their invading force and those once RAW agents who turned columnists in Sri Lankan newspapers were now saying "no compromise" on Mumbai. One general was the same character who only a few weeks ago had been saying that the LTTE could not be defeated -- short hand for he did not wish for the LTTE to be defeated. As part of the IPKF this general had been reluctant to defeat the LTTE.
Let alone leading from the front when our oil tanks were attacked our then president left for London without even issuing a statement. And our other collaborative political "leaders" still call for "political solutions" and "devolution"! While condemning the Indian attacks they repeated the words this time. In India there were none saying that the attacks may have been justified because Kashmir was occupied or that as statistics show, the 150 million Muslims in India are heavily disadvantaged in jobs and access to education. And Indian Muslims, unlike Jaffna Tamils, were not specially privileged by the British; in fact the latter favoured Hindu Brahmins.
The Indian Home Minister resigned, accepting indirect responsibility for not being able to prevent the attack, a strong contrast to President Chandrika Kumaratunga who ran away amidst LTTE attacks. He was replaced by P. Chidamparan from Tamil Nadu. He vowed to take a stronger position against terrorism – leaving no maneuvering room for him to listen to supporters of LTTE terrorism in Tamil Nadu. Also resigning was National Security Adviser M K Narayanan who headed India's Intelligence Bureau from 1987 to 1990 and so had been in the thick of the then Indian campaign against Sri Lanka.
The Indian forces in their massacre of all those who attacked Mumbai probably showed us the way. No mercy. Prabhakaran and all his cadres be hunted down -- just as the Indians did. No, Prabhakaran will not swallow cyanide; he has to be given the last rites by the Sri Lankan army.
Un-heroes' speech
In his Heroes' Day speech last year, when the army had not had advanced so far in the North, Prabhakaran was still defiant. He said that thousands of his fighters were ready for the fight. He then said that the international community was unjust and that Indian designs were only "part of its regional expansion". This year, with sounds of government guns outside his bunker, he sang a different song. "His land" he said was "confronted with an intense war as never before" and that this "war was gathering momentum". He was now pleading to other countries that have banned the LTTE "to remove the ban".
Contradicting his speech last year, he was now claiming that "at no stage did we [the LTTE] consider India as an enemy force" and that the LTTE has "great expectations" that the "Indian superpower (sic) will take a positive stand" on the LTTE.
Not taking into account the effects of the Mumbai attacks on Tamil Nadu he still sought refuge in his fellow chauvinists in thre saying that "dormant voices in support of the LTTE struggle were re-emerging" again. Ignoring the fact that he had violated the phony ceasefire thousands of times, he was now wailing, calling for a ceasefire. "No sane voice is being raised either to abandon the war or to seek peaceful resolution to the conflict" said our insane tyrant. No fresh ideas or options were left to Prabakaran, he now only wanted a pardon. India recently renewed the ban on the LTTE.
Tamil meat
This time we were not as helpless as we were during the Indian incursion in 1987. Around 1987 the truly moderate TULF which included Neelan Tiruchelvam of the ICES had published a book in Tamil Nadu saying that Sinhalese ate Tamil meat, in fact that Colombo butchers carried signs saying "Tamil meat for sale". The British Guardian writing at the time equated the Indian Accord to Hitler's annexation of Sudetenland, Czechoslovakia's German speaking region. It said "India's pact with Sri Lanka is the most infamous contract imposed on a small country short of military occupation since the Munich Agreement of 1938. There are no more striking parallels, to the course of events in Sri Lanka than those which preceded the Sudeten German crisis of the 1930's".
Tamil Nadu racists pleading on behalf of the LTTE today had been taking a direct line from the words of Hitler as the latter laid claim on the Sudetenland. Just before its annexation Hitler would announce that the Germans there were being ill treated; an echo with the recent LTTE orchestrated hysteria in Tamil Nadu.
Squelching lies for LTTE
Our imminent military victory is in spite of propaganda which over decades spewed out anti-Sri Lankan lies across the world, the result of inaction by our academics and by actions of the foreign-funded antinational NGO lobby. A few days before the Mumbai massacres I was at the tail end of a somewhat gruelling eleven-lecture tour in different parts of India (on technical subjects not on Sri Lanka). I could once again remind myself how the NGO sector had distorted Sri Lankan reality through their export of lies. It is instructive to see from where these lies emanate.
In Hyderabad at the sessions of the World Academy, Professor S.D.Muni was in a panel on global security. In response to me he mouthed the usual NGO shibboleths of "political solution" for Sri Lanka.
When I pointed out that the problem started with India which had invented South Asian cross-border terrorism with Sri Lanka as its first victim, Muni went mum. He had earlier been at the Jawaharlal Nehru University. His predecessor was our late family friend Urmila Phadnis who had a sympathetic understanding of Sri Lanka.
In New Delhi I visited the defence think tank, the Institute for Defence Studies and Analyses (IDSA), its first director being my World Academy colleague Air Commodore Jasjit Singh. Its present officials mentioned who their current contacts were. One with "South Asian" attached to its name (I forget the exact words) had a member who had supported incursions into Sri Lanka. The other was the ICES whose director was recently deported for advocating R2P -- foreign interference, including armed intervention in Sri Lanka.
While at JNU I dropped in on Professor P. Sahadevan, a Tamil Nadu native who had succeeded Muni and Phadnis. He was a pleasant man but his main contact in Sri Lanka turned out to be one of a Colombo University academic who had written on the need for a separate Tamil state as well as advocated foreign intervention.
The latest NGO in the news was a foreign funded religious grouping issuing "peace statements" at Anuradhapura just as the government was about to crush the LTTE.
We should let the local monks present there to examine their own consciences and minds. But I want to draw attention to the highest ranking dignitary in the meeting, the Cambodian Sangharaja who was flown in for the event. He was appointed Sangharaja of Cambodia by the Vietnamese only after the latter had totally and mercilessly vanquished the Khmer Rouge. The real message from that particular NGO meeting at Anuradhapura was what was not articulated, namely the Cambodian lesson: the need for a military subjugation of a barbarous group. That the LTTE must be defeated.
The majority of NGOs do good work. It is only the NGOs adversely affecting national security that we should be concerned with.
The government recently deported NGOs actively supporting the LTTE behind enemy lines. It had earlier deported the ICES head for advocating R2P. It had stopped activities of the Berghof Foundation. The latter together with other NGOs wanted to downsize the army -- in effect prevent the current attack on the LTTE. Authorities also stopped similar NGO personnel lecturing at defence academies.
Newspapers now regularly condemn foreign-funded NGO machinations. But we know that a few journalists have a comfortable secondary income from NGOs by writing LTTE apologetics. After much effort, overseas terrorist financing has been slowed. And after the LTTE bans abroad their propaganda efforts have been partially blocked. But the local purveyors of pro-LTTE lies still operate with government university funding. No other country would tolerate this. After WW 11 any person who had directly or indirectly supported the Nazis were denied employment in the German state sector. Among our neighbours, groups supporting the breakup of the country are severely dealt with. Stopping our local exporters of lies is easy. Remove them from government service and stop the funding for these NGOs, if need be by emergency rule. This very soft solution will save numerous lives.
After the Mumbai attacks its residents had a slogan "Enough is enough". Enough has indeed been enough for us in Sri Lanka of an export industry of lies.