The Supreme Court on Thursday suspended the indictment and all proceedings in the High Court of Colombo against Tiran Alles and Dushyanthe Basnayake until the fundamental rights violation application filed by them was finally determined by the Supreme Court.
The suspension came when the fundamental rights violation petition filed by Mr. Alles against his alleged arbitrary arrest and detention was taken up before the Bench comprising Chief Justice Sarath N. Silva, Justices Ms. Shiranee Tilakawardane and K. Sripavan.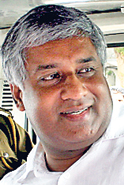 Tiran Alles
Petitioner Alles was charged in the Colombo Magistrate's Court under the Suppression of Terrorist Finance Act. The case had dragged on for more than 1 ½ years and consequently the petitioner filed a fundamental rights violation petition in the Supreme Court.
The Supreme Court granted leave to proceed with his petition and subsequently the Attorney General's Department informed Court that the petitioner had been indicted before the High Court and therefore the Supreme Court terminated the proceedings of the rights petition subject to the condition that he was entitled to file any motion if a necessity arises.
Accordingly the petitioner filed a motion in the Supreme Court seeking an order from Court that serving the said indictments were in violation of his fundamental rights.
Mr. Alles, who is the Chairman of the CBE Group of Companies and former Airport and Aviation Services Chairman, had filed this application against his alleged arbitrary arrest and detention and the purported politically motivated investigation on him. He cited Defence Ministry Secretary Gotabhaya Rajapaksa, then IGP Victor Perera, Senior DIG Mahinda Balasuriya and six officers of the Terrorist Investigation Division as respondents.