They are worshipped in some countries and revered in others. But most of all they are feared……..fear being the reaction when seeing sketches of the swirling mass of snakes on the head of the mythical Medusa, the mesmerizing gaze of the beautiful cobra adorning Tutankhamun's head; the terrifying movie 'Anaconda' or even a smoothly-gliding rat snake in our very own backyard.
Strangely, however, though stories are galore and people are bitten by snakes not only in remote areas but also in cities (see box), there has been a yawning gap in what happens at ground level and what is documented. Although considered an "important public health problem", data were scarce, The Sunday Times understands.
That was till November this year when crucial information has come to light about the worldwide situation with regard to snake-bites.
There are 1.8 million envenomings and 94,000 deaths per year in a scale of maximum to minimum with the other end being 420,000 envenomings and 20,000 deaths per year worldwide.
Southeast Asia, South Asia and Sub-Saharan Africa bear the brunt of snake strikes.
The data have come about due to the tedious but meticulous work done by seven Sri Lankan and two foreign doctors over a period of about one year, which saw the team researching documents in Geneva or attempting to unearth hospital records in Indonesia, half a world away.
And their labours have borne fruit in the form of the first-ever scientific study, 'The Global Burden of Snakebite: A Literature Analysis and Modelling Based on Regional Estimates of Envenoming and Death' which has found many interesting facts. (See box)
Lanka: High on envenomings, low on deaths
Sri Lanka bags the second place on the list of envenomings, with at least 30,000 cases per year, though the number of deaths, fortunately, is less than 100 per year. India has the highest number of envenomings and deaths among all the countries, the study has found. Why high envenomings in Sri Lanka but not comparable deaths? "We have a good health network in rural areas, anti-venom is available and people have a good awareness on what to do in case of snake-bite," says Prof. Janaka de Silva.
"This is just a base or foundation study," says Prof. Janaka de Silva, Professor of Medicine, Faculty of Medicine, University of Kelaniya.
The team which carried out the study, commissioned by the World Health Organization, comprised along with Prof. de Silva, Dr. Anuradhani Kasturiratne, Professor A. Rajitha Wickremasinghe, Professor Nilanthi de Silva, Dr. N. Kithsiri Gunawardena, Professor Arunasalam Pathmeswaran and Dr. Ranjan Premaratna of the Faculty of Medicine, University of Kelaniya, Dr. Lorenzo Savioli of WHO's Department of Control of Neglected Tropical Diseases and Dr. David G. Lalloo of the Liverpool School of Tropical Medicine, United Kingdom.
The study concluded in March had been submitted in May and published by the prestigious American medical journal, PLoS Medicine (Public Library of Science) on November 4.
Why hadn't snake-bite data been collected until this study?
"International experts felt that though it was an important public health issue it was a neglected area because it was prevalent more in poor tropical countries and in most cases those affected were from the rural areas," explained Prof. de Silva.
There are three types of snakebites – a bite by a non-poisonous snake, a bite by a poisonous snake but without envenoming (dry bite) or a bite by a poisonous snake with envenoming, The Sunday Times understands.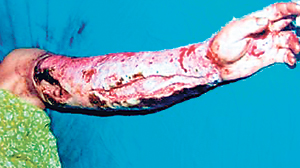 Withered arm of a snake-bite victim
The purpose of the study was to estimate the global burden of envenoming so that manufacturers could get an idea of how much anti-venom to produce and the regional health authorities how much anti-venom to distribute and where to target the distribution.
The gathering of information had been time-consuming. Focusing on the two major issues of envenoming and snake-bite deaths, the team had gone through all the literature on snake-bites amounting to over 3,000 publications already available and also all the UN databases and finally contacted snake-bite experts, ministries of health and poison centres worldwide.
When the reams of information were before them, the team had divided the 227 countries of the world into 21 regions, The Sunday Times understands. Countries having epidemiological similarities had been put into a particular region, and would consist of both countries with data and without data.
"For those countries that did not have data, the figures were extrapolated from similar countries that did have data," said Prof. de Silva, adding that it did not mean that they had information only from a few countries.
Data had been collected from as many as 135 countries on envenoming and 162 countries on deaths caused by snake-bites, The Sunday Times learns. Ironically, however, some countries in Sub-Saharan Africa like Tanzania which did not have data, were the countries that were the hardest hit by snake-bites.
"Even middle-income Asian countries like Indonesia had sparse data while countries like France on the other hand had a lot of data," says Prof. de Silva. With a lack of information from some countries, as the team could not come to a result which was 100% accurate, a minimum-maximum range had been worked out.
However, Prof. de Silva says the work is not over, and asks whether people have realized the serious disabilities that snake survivors have to live with.
Have you seen the withered arm, a farmer who may have been bitten by a cobra is left with, if he survives, he asks. The consequences of snake-bite are many, including paralysis, a gangrenous limb, breakdown of skeletal muscle, kidney damage, bleeding and blood-clotting abnormalities and also cardiovascular effects, The Sunday Times understands.
Therefore, the next challenge for the world is to check out the long-term effects and economic burdens faced not only by snake-bite victims but also their families.
Tragic faces of snake-bite victims
Two funerals in one area just a few weeks apart quite close to Colombo, both deeply difficult to accept – because both were for children, a 4 1/2-year-old girl and an 11-year-old girl. Both dead after snake-bites.
At the home of the little one the air of despondency is tangible. The swing has been put up and the laughter of the little girl will never be heard again.
That fateful day is seared into the mother's memory. Back after Montessori, the little one had asked for milk tea while she ate part of the noodles she had taken with her to play school. Then it was time for the mother-daughter ritual of sweeping the garden, with the big and small ekel brooms.
The mother's face crumples up and the tears flow, as she re-lives that terrible afternoon. As the mother moved away to keep the ekel brooms, the daughter skipped along to see the aunt next-door. Minutes later she was in agony screaming that she had been bitten by a naya (cobra).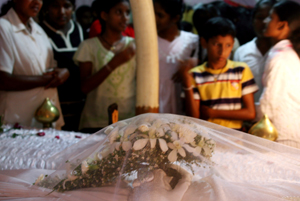 Children coming to pay their last respects to Ashanthi.
Blood was pouring from two bites just below the child's ankle. The mother couldn't think straight. After talking to someone trusted in the area, the mother was about to take her to hospital when the child was finding it difficult to breathe, with foam seeping from the mouth.
On the way to hospital, the mother felt the little one losing consciousness. "I did try to breathe into her mouth," she says. The hospital staff got her heart beating but it was a long vigil for the parents after that – 18 days, hoping against hope that the child would recover, but in vain.
"There was no indication in her horoscope of a maraka," sighs the mother now that the pitter-patter of her feet is heard no more.
Meanwhile, some miles away, there is weeping as children come to pay their last respects to a peer - Ashani Dilrukshi Gunesekera, 11, another victim of snake-bite.
A Grade 5 scholarship winner, she had moved from the school close to her home to Yashodara Vidyalaya in the city just this year.
Her sights set on becoming an engineer, she was coming home after tuition with her mother, when "something" bit her. Although there was no pain, her mother rushed her to hospital.
She was talking and even wanted her books brought to the hospital so that she could study for the tests, says her father Kelum Gunasekera. Admitted to hospital on a Saturday night she was dead by Sunday.
Tragically, these are the faces of snake-bite victims in Sri Lanka.